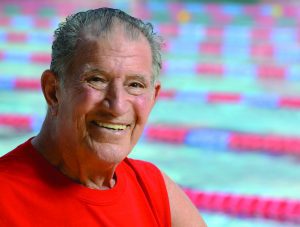 Five days a week you'll find 86-year-old Al DiMartino swimming laps at the Venice YMCA. He and his wife, Marie, maintain their own home and yard, entertain friends at their Venice home, and Al enjoys nature photography.
It's a nice life.
But twice in the past five years, Al faced the frightening diagnosis of lung cancer. His remarkable progress in returning to a full, active lifestyle is a testament to the benefits of lung cancer screening and technological advances in robotic surgery.
"Seventy-five percent of people diagnosed with lung cancer are at an incurable stage, and if the person has progressed to symptoms, surgery for a cure may not be an option," said Bryan L. Smith, M.D., F.A.C.S., a board-certified surgeon with Surgical Associates of Venice & Englewood. Dr. Smith performs robotic surgery at Venice Regional Bayfront Health and conducted both of Al's lung surgeries.
"If discovered early enough, lung cancer is curable, as in Mr. DiMartino's case. His cancers were both at stage one," Dr. Smith said. "Research indicates that more patients and health care providers need to be informed about the screening guidelines for lung cancer."
Researchers from the American Cancer Society have found that screening all former and current smokers who fall within guideline recommendations could prevent up to 12,000 lung cancer deaths a year in the US. However, research published in February in JAMA Oncology reveals that very few people who could benefit from lung cancer screening – mostly current and former smokers – are getting the tests.
In Al's case, his primary physician was aware that Al was formerly a heavy smoker and worked for 25 years as a firefighter – a profession that exposes one to potentially harmful smoke and other hazardous materials that can be inhaled and cause lung problems.
In 2013, a routine chest x-ray during Al's annual physical showed an abnormality in the left lung. His doctor referred Al to pulmonologist Yousuf Dawoodjee, M.D., of Gulf Coast Pulmonology Associates for further tests.
"When Dr. Dawoodjee called me back in to talk, I knew something was wrong. I was scared," Al said.
The diagnosis was cancer, but because it was caught early, the growth could be removed with minimal loss of lung capacity, Dr. Smith said. Using a highly advanced surgical robot, Dr. Smith can manipulate surgical tools inside the patient's body via computer controls. The tools are inserted into the patient through small incisions, rather than opening the chest.
This minimally invasive technique can reduce hospital stays and speed recovery. Because it is easier for the patient to withstand the procedure and recovery, robotic surgery can also allow older patients to receive treatment that might not have been available to them using conventional surgical techniques.
After his first surgery, Al returned to his usual activities and did not require radiation or chemotherapy.
"I was back to swimming 18 to 20 meters on one breath," said Al, a long-time member of the Venice YMCA.
His doctors continued to follow him closely, using low-dose CT scans to check for additional cancer. In 2016, cancer appeared in his right lung. Again, the growth was removed through robotic surgery.
"I was out of the hospital in four days. It went like clockwork," Al said.
Four months later, Al had returned to his normal activities. He arrives at the Venice YMCA before 6:30 a.m., five days a week, to swim laps.
Dr. Smith said that some loss of lung function can be expected, depending on how much lung tissue must be removed.
"I'm still not back to where I want to be, but I'm headed in the right direction," said Al, who uses oxygen therapy daily, usually just before bedtime. "Each week I feel better than the week before. Thank God for the medical care I'm getting between all my doctors. They really got together and took wonderful care of me."
For more information on lung cancer screening and robotic surgery, call 941-488-7742 or visit veniceregional.com and click on "Services," "Pulmonary Care."
Should You Be Screened
for Lung Cancer?
The American Cancer Society recommends that doctors talk to their patients about having a low-dose CT scan to check for lung cancer if they meet all of these criteria:
• 55 to 74 years old
• In fairly good health (healthy enough to withstand treatment)
• Have at least a 30 pack-year smoking history
(equal to smoking a pack a day for 30 years or 2 packs a
day for 15 years)
• Are either still smoking or have quit smoking within the last
15 years
The screening should be done at facilities that have the right type of CT scanner, a lot of experience using the scanners for lung cancer screening, and a team of specialists who can provide appropriate follow-up care for people whose results indicate a possible problem.
Source: American Cancer Society (cancer.org)