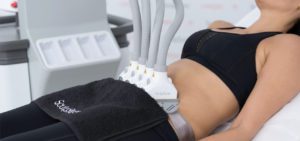 Some areas of our frames are much more resistant to diet and exercise than others. Unfortunately, it may seem that no matter how much dieting or how many crunches, squats or tricep curls we do, a thin layer of fat that we just can't seem to shake off conceals our results.
We've all been there; stubborn belly fat, the dreaded bra bulge, and saddle bags can make us feel less confident in our appearance. Working out, eating right and the unfortunate, less-than-stellar results of some spa treatments can leave us discouraged, but there is a better way! The trick is getting the right treatment at the right time, and now is the time if you'd like to look your best for the holiday season. Body sculpting treatments can help you get back into shape and help you feel better about your body.
SculpSure® Body Contouring Fat & Cellulite Reduction
SculpSure® is a non-surgical, non-invasive treatment alternative to traditional liposuction, for fat reduction and body contouring. If you are hoping to enhance your appearance and get your body looking sleek for the holiday season, we have the perfect option to help you accomplish your goals. If you're looking for a solution that involves no downtime, Marlowe & Marrs is excited to inform you that achieving your aesthetic goals are within reach. SculpSure®, a non-surgical procedure, will help you look and feel your best this year.
How Does it Work?
Eliminate Fat with Warm SculpSure® Treatments
Make this year the year you finally get rid of those pesky love handles, flabby arms or muffin top with SculpSure®, a non-invasive body contouring treatment. SculpSure® sculpts the body by eliminating stubborn fat and trouble spots that are hard to get rid of through just diet and exercise. Targeted laser energy heats fat cells under the skin without affecting the skin's surface. The SculpSure laser raises the temperature of fat cells, damaging their structural integrity. Over the next three months, the damaged fat cells are processed and eliminated by the body's lymphatic system, resulting in a slimmer figure. Better still, the after-effects are noticeable and long-lasting. Fat cells are permanently removed and will not regenerate. SculpSure® is a quick, simple and gentle process. It is FDA cleared, which means it is officially approved as being a completely safe way to eliminate excess fat cells.
The procedure itself takes approximately 25 minutes and can be used to treat different areas at the same time. You can expect to see the slimming results in as little as six weeks! Optimal results are achieved with 2-3 treatments, over a course of 3-4 months.
"The beauty of this is there is absolutely no downtime associated with SculpSure. Patients get dressed immediately after the procedure. People go back to work, go back to exercise. You can go to the gym that afternoon."
– Dr. Debora Wattenberg
Not everyone is a candidate for body contouring. It is not for the treatment of obesity, but it is for targeted treatment of stubborn fat deposits and cellulite removal.
• Are you ready to tackle unwanted fat on your arms, abdomen, love handles, thighs and buttocks?
• Are you concerned about the dangers of liposuction?
• Are you too busy to take time off to recover from surgery or invasive procedures?
If so, then body contouring may be right for you. The Marlowe & Marrs team will be happy to discuss your body image goals and help determine the treatments that will enable you to achieve them. Financing is available.
To find out more, please visit marlowemd.com/body-sculpting or call 941.303.8590.