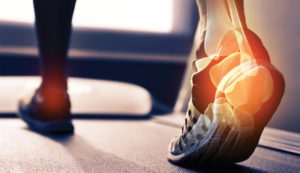 With the average American taking 5,117 steps a day, it is no surprise that most will experience a foot or ankle problem at some point in their life. These complex body parts endure relentless pressure over time subjecting them to pain or injury, and a change in structure. "As we age, the foot grows longer and wider as the arch falls and the forefoot spreads", says Christina Kabbash, M.D., Board Certified Orthopaedic Surgeon and Foot & Ankle Specialist at Physicians Regional Medical Group. "The shoes we wore in our 20's are usually not a good fit in our 40's."
Early signs that the foot structure is changing include elevation of the small toes, spreading between the small toes when bearing weight, crossing of the great toe over or under the lesser toes, bone spurs from arthritis, cysts causing bumps on the top of the foot, the arches rolling in, and swelling on the inside and/or outside of the ankles. Aside from aging, Dr. Kabbash points out that wearing the wrong shoes is a major cause of foot problems. "Shoes that are too tight will often cause corns and thick calluses where the toes and foot are now rubbing. They can also make the foot susceptible to hammer toes, bunions, heel bumps, fungus, nail deformities, and irritation."
While the natural changes that occur in feet from aging cannot be avoided, there are some prevention strategies that can help keep pain and common cosmetic defects at bay. Dr. Kabbash offers the following tips:
1) To help avoid corns and calluses, wear wide and roomy toe box shoes, or choose closed toe shoes or sandals made of soft stretchy material that breathes.
2) For arches that are visibly falling, choose orthotic inserts or shoes with built in arch supports. This includes sandals.
3) If corns have formed, remove them by soaking the foot in warm water for 20 minutes, and then working on the area with a pumice stone. Pharmacies also sell creams that will soften corns over time, and shaving off the corn by a medical professional can be an option.
4) When there is a bunion, wearing a soft, silicone, toe spacer between the first and second toe can help maintain alignment of the big toe and keep it from rubbing on the second toe during walking and sports activities. Wearing an arch support and avoiding high heels may also slow the progression of a bunion.
"I occasionally hear some patients say they are afraid they will have a closet full of shoes they can only look at" says Dr. Kabbash. "The truth is, the shoes they are wearing that no longer properly fit their changing feet are causing damage. Once they change those shoes and experience a healthy and comfortable shoe fit again, chances are they will no longer have the desire to wear the shoes that hurt their feet anymore."
Christina Kabbash, M.D., Ph.D., M.P.H. is board­certified in orthopaedic surgery and fellowship trained in orthopaedic foot and ankle trauma and reconstruction. Dr. Kabbash's services at Physician's Regional – Pine Ridge include treatment for hammertoe and bunion reconstruction, sprains or fractures of foot and ankle joints, and tendon ruptures. She also treats Achilles tendon injuries, along with foot and ankle post-traumatic arthritis, including total ankle replacements. Dr. Kabbash's office is located at Physicians Regional – Pine Ridge, 6101 Pine Ridge Rd, Naples, FL. She is accepting new patients, and same-day consultations are often available.
Request an appointment online at PhysiciansRegionalMedicalGroup.com, or call 239-348-4221.