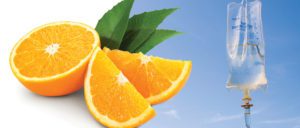 According to the CDC, last year, Florida was one of the states with the highest records of influenza outbreaks, causing unprecedented amounts of hospitalizations and deaths. This year, we're uncertain of how threatening the flu season may prove to be, but we do know that the flu will affect all ages. Taking precautions is essential. Young children, individuals with weakened immune systems, and adults 65 and over are more susceptible to the dangers of the flu, as their symptoms can quickly exacerbate into pneumonia or other disease states. As the immune system becomes weaker, the ability to fight off viruses and bacteria becomes more difficult and problematic. It's critical to stay healthy and amp up the immune system; that's why so many people are looking into preventative treatment methods.
IV Therapy Advantages
Immune boosting vitamin C can be absorbed in fairly large quantitates by the body, but even more so by IV therapy. When given intravenously, larger amounts are absorbed and not excreted, than by taking a supplement, or by eating fruits and vegetables alone.
While eating a healthy diet and taking vitamins is beneficial, IV induced vitamin C is able to enter the bloodstream, infiltrate tissues and pass through the blood-brain barrier easier than with traditional supplementation. At HYDR8 Wellness Center in Sarasota, they are the experts at IV therapy. Each patient is evaluated and given the best combination of vitamin and antioxidant combinations, based on their individual health concerns the patient will sit in a relaxed environment while being treated. The highly trained practitioners at HYDR8 take great pride in caring for their patients and getting them well. All treatment is under the medical direction of HYDR8 and many physicians in the area refer their patients to HYDR8 for their alternative health and wellness options.
IV therapy is the fastest way to replenish vital builds and vitamins your body needs!
Hydration & Vitamin Infusion Options:
Basic Hydration Package
Contains IV fluids only. Treats patients with simple dehydration symptoms.
Athlete's Package
Geared for athletes, this package offers electrolyte-packed IV fluids, anti-nausea medication, anti-inflammatory medication, one Vitamin B12 injection for energy, or Super Amino Acids to help the body recover from daily workouts or major sporting events. This process rids the body of harmful waste products produced by vigorous training.
Hangover Package
This treatment includes IV fluids, medications for nausea, upset stomach and headache associated with alcohol intake. It is the perfect way to start a busy day after a night out.
Wellness Package
For relief of the symptoms of influenza and gastroenteritis, this package contains IV fluids, anti-nausea medications, and a Vitamin B12 injection to help you recover from illness much faster and give you energy.
MYERS' COCKTAIL IV Therapy
Our Myers' Cocktail consists of: Vitamin B-complex, Vitamins B5, B6, B12, Vitamin C, Magnesium, and Calcium.
Morning Sickness
This package helps the expectant mother. It includes IV fluids and anti-nausea medications to relieve symptoms of morning sickness.
Our IV Therapies are for everyone
You can choose any one of our therapies to utilize on a monthly basis. We offer a comfortable spa atmosphere with experienced, hospital-trained staff to assist you on your road to wellness. We give you the quality care you expect, with the comfort you deserve.
Personalized medical team
Only 10 spots available. Yes have your own medical team for any competition. From having a team doing a century ride to Cross-Fit competitions. We can be at your event! Your own Licensed Medical Staff just for YOU (and your team)!
Fellow Athletes!
Fellow runners and triathletes, we are here for you. Getting ready for an Ironman, 5K run, or marathon? Give us a call. We can set up treatments for you before and after your big event. You don't have to let dehydration limit your training anymore. Give us a call and let us set you up.
Hey Crossfit Athletes! Visit CryoXL for your Whole Body Cryotherapy!
Did you just do a great workout and need some fluids or Whole Body Cryotherapy? Give us a call and come in! We are open Monday through Saturdays. If you need therapy before a big event, give us a call and we can hydrate you and help you recover.
CryoXL – Whole Body Cryotherapy
Located inside of Hydr8 – Wellness Centers
1800 South Tuttle Avenue | Sarasota, FL 34239 | (941) 870-4366