Courtesy of Orthopedic Center of Florida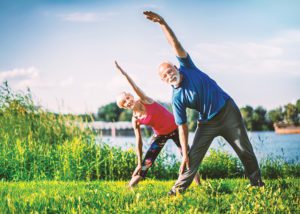 Individuals that lead an active and healthy lifestyle are less likely to be overweight, and they have better range of motion and mobility than those who are overweight or live a sedentary lifestyle. Carrying extra pounds and lack of movement throughout the day can lead to health issues such as back, knee and ankle pain. The Orthopedic Center of Florida's mission is "Working hard to keep you active." What if you have arthritis and joint pain? Can exercise improve your condition?
The Center for Disease Control reports that people with arthritis also benefit from exercise:
If you have arthritis, participating in joint-friendly physical activity can improve your arthritis pain, function, mood, and quality of life. Joint-friendly physical activities are low-impact, which means they put less stress on the body, reducing the risk of injury. Examples of joint-friendly activities include walking, biking, and swimming. Being physically active can also delay the onset of arthritis-related disability and help people with arthritis manage other chronic conditions such as diabetes, heart disease, and obesity.
Learn how you can safely exercise and enjoy the benefits of increased physical activity with these S.M.A.R.T. tips.
• Start low, go slow.
• Modify activity when arthritis symptoms increase and try to stay active.
• Activities should be "joint friendly."
• Recognize safe places and ways to be active.
• Talk to a health professional or certified exercise specialist.
Orthopedic Center of Florida
At the Orthopedic Center of Florida (OCF), their team of skilled orthopedic specialists strive to meet all of your orthopedic, pain management, podiatry, and rehabilitation needs. They are committed to providing the utmost care in orthopedic and sports medicine services. At Orthopedic Center of Florida, you will find an array of orthopedic services such as Digital X-Rays, Diagnostic Testing, Robotic Laser Therapy, EMG/NCV, and more.
OCF's treatment goals are joint preservation, quick recovery, and safeguarding patients from permanent injuries. They specialize in arthroscopic, minimally invasive, and surgical procedures of the shoulder, knee, hip, hand, wrist, elbow, foot, ankle, and pain management. They also treat a vast array of general orthopedic conditions such as carpal tunnel syndrome, trigger finger, fractures, cysts, tendonitis, and arthritis, among others.
Their highly-skilled team of specialists are focused on service, excellence, and patient satisfaction. The orthopedic doctors at OCF work hard to get you active again by ensuring that a patient's path to recovery continues long after their care is complete.
At OCF, they take a multidisciplinary approach to sports medicine and orthopedic surgery, putting the patient first, and providing a full explanation of the injury and all possible treatment options. Their commitment to treating each patient with respect and great care, both medically and emotionally, sets new standards in orthopedics. Building loyal interactions with all of their patients are just as rewarding to the OCF physicians, as their dedication to highly skilled treatment options.
To schedule your appointment, please call 239-482-2663, or to find out more, please visit www.ocfla.net.
Orthopedic Center of Florida
239-482-2663 | www.ocfla.net
12670 Creekside Lane, Fort Myers, FL 33919
Source:
https://www.cdc.gov/arthritis/basics/physical-activity-overview.html