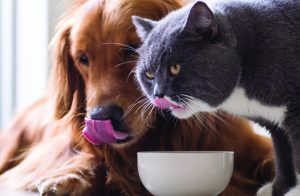 Along with the majority of the population that resolves to get fit for the New Year, this is the perfect time to get your pet's weight in check.
Whether your cat is fat, or your dog resembles a hog, even just a few extra pounds on your furry friend can wreak havoc on the heart, lungs, and joints.
Sure we love to overindulge, and unfortunately, we often feed our pets more than they need as well. Veterinarians have a saying, "feed to the animal's needs, not what's recommended on the bag or can."
To clarify, if your dog's food suggests 1 cup of food twice per day per their body weight and you notice that they are either too thin or too fat, it's important to adjust the food depending on your dog's metabolism. There are also a variety of high-quality brands that offer weight management fare. If your pet is overweight, it's important to talk to your veterinarian about, which diet is best for their needs and to test them if necessary for any diseases or disorders that may be causing or affected by their weight.
Exercise is essential to all pets and their overall wellbeing. If you are unable to walk your pet or get them the exercise they need, you may benefit from a professional walker in your area.
Foods toxic to dogs:
. Grapes
. Onions
. Raw Garlic
. Avocado
. Chocolate
. Alcohol
. Sugar & Xylitol
. Salt
. Certain nuts
Foods toxic to cats:
. Raw eggs
. Raw meat
. Raw bones
. Garlic
. Onions
. Chocolate
. Grapes
To help your pet safely lose weight, please consult your veterinarian and begin a low-calorie food regimen.
Best Friends Animal Hospital
Best Friends Animal Hospital believes in providing quality health care for your pet in a warm and welcoming environment. Their doctors routinely attend educational seminars in order to stay abreast of the latest medical treatments and technologies. Their hospital also prides itself on having state-of-the-art equipment including a digital X-ray machine and surgical laser, both of which are used in human medicine. The digital X-ray machine allows them to take high-quality radiographs in seconds and gives their doctors images with better diagnostic quality, while the surgical laser helps to decrease pain and bleeding as well as increase healing speed of the incision.
Best Friends Animal Hospital offers free 24-hour access to your pet's medical record through a pet portal, as well as home delivery of your pet's prescriptions through an online store. Their online Pharmacy carries prescription medications, heartworm, flea and tick preventative, pet food, treats, and toys.
The doctors and staff are devoted to helping your pets' live longer, healthier and happier lives because they understand what an important member of your family your pet. Their knowledgeable staff is available to answer any questions you may have, and they look forward to seeing you and your pet(s) soon. Please visit their website to find out more, or call them to book your appointment.
Best Friends Animal Hospital
239-768-7387
www.bestfriendsanimalhosp.com