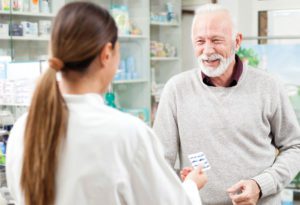 We take the time to get to know our customers and treat them like family. They're not just another number. When you call here, a real person will answer. The key difference between Misir Pharmacy and large corporations is that large corporations services care primarily about their corporate profits, while Misir Pharmacy cares about their patients and the quality of care they are receiving.
Packaging to meet individual patient's need:
As well as online services, independent pharmacies can also make your life easier through additional options. For example, we can deliver your medication right to your house. So, if it's hard for you to get to the pharmacy, you don't have to. Convenient packaging, including blister packs, will also make it easier to remember to take the right dosages of your medications.
An Innovative Medication-Taking Solution:
Dispill® Multi-dose Packaging is a safer, easier way for you to help patients adhere to their medication schedules. It's a patented system that lets you provide prescribed medication to patients in an all-
inclusive blister pack. Not only will it help you protect the independence of your patient's medications, Dispill® eliminates the need for pillboxes and single-dose bingo cards, which in turn decreases the risk of patients mixing up medication or forgetting the time of day they have to take them. And, each cell is perforated, making it easy for patients to take them on the go. Giving patients a safer, easier way to take their medications correctly is a convenience that helps them maintain their quality of life.
Your Local Pharmacy
You can always feel better about shopping at a locally owned and operated store. When shopping at big-box stores, your money increases a high-level executive's already immense salary. By shopping at a local business, your money will help put food on a family's table or send their kids to camp. In other words, your money is recycled into your own community.
At independent pharmacies, you'll gain all the benefits of getting to know your pharmacist, and your pharmacist getting to know you. We can always take the time to greet you by name, hear your story, and answer your questions. Having a dedicated pharmacist who knows you and your needs also means there's less chance of an error occurring. At independent pharmacies, our main goal is to help you and make sure your visit to the pharmacy is a positive experience.
If you need to rush in, grab your medication and go, we understand, and with a simple phone call or notification through our online system, we can have your prescription ready for you. If you have questions or need us to go over your instructions once, or a few times, the pharmacists at independent pharmacies can give you as much time as you need. We understand that it's hard to remember how to take your medications sometimes and, to prevent taking them incorrectly, you need to have them properly explained to you.
MISIRx Compounding Pharmacy
When you partner with MISIRx's independently owned and operated pharmacy, you get the personal touch of a neighborhood pharmacy and the strength, resources, an array of services.
Misir Pharmacy has a singular focus on service, collaborating with their patients and their physicians to develop products and services that will help us provide the best quality of care, control cost, and remain compliant with the ever-changing healthcare.
Call or stop in today!
MISIR PHARMACY
St. Andrews Square – 8795 Tamiami Trail East
Naples, Fl 34113
(239) 403-0060
FREE DELIVERY
www.misirpharmacy.com