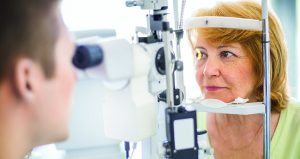 Over 20 million Americans have cloudy optical lenses, and most of the aging population over the age of 45 may start to notice small changes in their vision, leading up to the primary cause, known as cataracts.
The usual symptoms of cataracts are blurry vision, seeing double, sensitivity to light (both natural and synthetic), trouble with night vision and irritated eyes.  The lens of the eye that is affected is behind the iris.  This lens filters light through the eye into the retina, allowing signals of the images that we see to transmit to the brain, but with cataracts, the lens is cloudy and scatters the light, causing blurred vision.  If left untreated, cataracts can cause blindness.
The primary cause of the haziness of the lens is aging, but other issues can contribute to the disorder like smoking, family history, obesity, diabetes, excessive UV light (sun) exposure and disease.  All are factors in the worsening of cataracts.
The treatment is complex, but standard.  It entails an ophthalmologist removing the cloudy lens and replacing it with a new intraocular lens (IOL).  If both eyes need the procedure, they will be done one at a time, because you will need to wear an eye patch for a few days to completely protect the eye.  For optimal healing, optical drops also need to be administered according to a specific timetable, which your physician will explain in detail to you or your caregiver.
After cataract surgery, typically, you will continue the eye drops for approximately four to six weeks. Your blurry vision will significantly improve, but the traditional IOL's are mono-focal, so depending on your prior vision, you may indeed still need to wear your glasses for reading, or for far distance sight.  There are multifocal lenses available, but major insurance carriers usually do not cover the cost for those types of IOL's.
Artificial lenses do not have the same susceptibility as the natural lens of the eye, so they will not grow cloudy over time.  It's extremely rare to need to have cataract surgery more than once. Getting cataract surgery not only keeps your eyes healthy, but it can give you a new outlook on life because your quality of life will be enhanced significantly.  Your ability to be more socially active, read, write, and focus on the world around you will bring back your confidence and self-reliance, getting you back to doing what you love.
Manatee Technical College
Manatee Technical College offers a completely accredited program for optometric assisting. With four campuses in the Bradenton area, Manatee Tech offers over 50 career preparatory programs.  They're proud to provide training in some of the fastest growing careers in the U.S. with their "career-in-a-year" motto.  Many of the accredited programs range from 6-12 months of studies.  For your convenience, they offer a number of online classes as well.  For more in-depth information on the optometry program, or for a better understanding of MTC's programs, please visit manateetech.edu, or call 941.751.7900.