By Andrew K. Weitzel, D.O., FACOS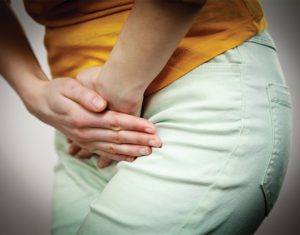 If you have a urinary tract infection your bladder is red and inflamed. This irritation is what causes a great deal of discomfort and exacerbating the sensations of the need to urinate more frequently. It's quite common for little to no urine to express through the urethra. Other symptoms are cloudy urine that has a foul odor.
UTI Causes
Urinary tract infections are caused by a bacterium that enters through the urethra and travels up into the bladder. The ease of bacteria entering the urethra is, unfortunately, a common problem among many people, especially females. The anatomy of the person's urinary tract can cause more frequent UTIs, as well as disorders like diverticulitis, which harbors bacteria in small bulges in the digestive tract. Having bladder abnormalities like enlargement or adhesions can also make it difficult to drain the bladder thoroughly, which is a common cause for UTIs to occur.
Various diseases that affect the immune system can also intensify or increase urinary tract infections.
Untreated UTIs can be fatal
If you have a UTI, it's important to see a physician for further testing and medications to be administered to make certain that the infection is cleared and to lessen the chances of recurrence, which is quite common. Many people do not realize the risk involved with leaving a UTI untreated or undertreated. If the bacterium travels up into the kidneys, your kidneys can shut down and the risk of sepsis or other life-threatening disorders is greatly increased. A kidney infection will cause a great deal of lower back pain along with the advanced UTI infection indicators.
How to Prevent UTIs
If you need to urinate, it's imperative not to hold it in. When the urine sits in the bladder, it can become infected quickly. After intercourse, it's helpful to urinate to remove any bacteria that may have entered the vaginal or penile area. For females, it's important to wipe from the front to the back to avoid rectal bacteria from entering the ureter. If you take baths, make sure the tub is clean and free of bacteria or strong chemicals. Drinking plenty of water will help to flush out bacteria and taking a cranberry supplement can also stave off infections.
If you suffer from frequent urinary tract infections, a urologist will devise a plan and treatment options for you to lessen your risk and decrease your chance of kidney complications.
Gulf Coast Urology – A Division of 21st Century Oncology – is a fully integrated, breakthrough urological care facility. Their patients are able to visit their neighborhood physician and also obtain streamlined access to pathology, laboratory, radiation and imaging services. By having these services readily available, They can more effectively manage their patient's health care as a whole, while ensuring they receive the highest standard of quality.
The board-certified physicians and clinical staff are experts in the latest advances in urological care and are leaders in bringing new technology and treatment options to our community. They treat all urologic diseases and conditions, including enlargement of the prostate causing lower urinary tract symptoms, prostate cancer screenings and treatments, urinary incontinence, changes in voiding habits, overactive bladder, painful urination, excessive nighttime urination disrupting sleep cycle, urinary tract infections, blood in the urine, elevated PSA, kidney and bladder stones, sexual dysfunction including impotence, vasectomy and cancers of the kidney, bladder, ureter, testicles and more.
To schedule your urology appointment today, please call (941) 625-1550.
ANDREW K. WEITZEL, D.O., FACOS
Dr. Weitzel received his degree from Michigan State University College of Osteopathic Medicine, completed his internship and general surgery residency in Michigan and his Urology residency at University of Medicine & Dentistry of New Jersey. He is board certified and a fellow of the American College of Osteopathic Surgeons. Dr. Weitzel has been proudly practicing in Port Charlotte, Florida since 2006.
Dr. Weitzel is affiliated with multiple hospitals in the area, including Fawcett Hospital, Englewood Hospital, and Bayfront Health Park (Port Charlotte and Punta Gorda). He is also affiliated with Gulf Point Surgery Center.
Dr. Weitzel's areas of special interest are urologic oncology, kidney stone disease, prostatic hypertrophy, voiding dysfunction and urinary incontinence.
Dr. Weitzel has been chosen for the Choice Awards yearly since 2009. He sees patients at both Port Charlotte and Englewood offices.
Gulf Coast Urology
21260 Olean Boulevard
Suite 202A
Port Charlotte FL 33952
941-625-1550
www.gcurology21c.com