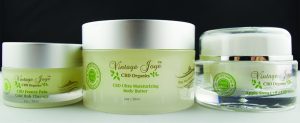 In Florida, we are blessed to have good weather throughout the majority of the year. For many active individuals that enjoy sports like tennis, kayaking, golf, and running, these types of endeavors can put strain on our lumbar spines. In most cases, this is good, as it strengthens the back muscles, but if you happen to have a weaker core or other debilitating issues, you may be at risk of injuring your lower back.
The muscles of our bodies support our entire frame, from our head and neck to our lower back and legs. Our large muscle groups are heavily relied upon to carry our weight and fluctuate with our daily movement and activities. If muscles are weakened or injured by exercise, or trauma, pain can adversely affect our day-to-day actions.
But if you are experiencing pain from muscle overload, injury, or for those individuals that suffer from arthritis, or other musculoskeletal issues, there are other alternatives to NSAID's (ibuprofen) or prescription pain medications—An all natural CBD Oil salve can alleviate many of your discomforts:
CBD Freeze, a pain rub therapy, is a topical analgesic blended with 50 mg of raw CBD oil to soothe minor muscle aches & joint pains. CBD Freeze is a colorless gel containing soothing menthol and works well on arthritis, back pain, sore muscles, and joints. It's long-lasting for all day relief, and offers non-addictive, targeted relief at the point of pain. You can apply it to your affected area up to 4 times per day.
Many Chiropractors are using CBD Freeze on their patients that suffer from back, neck, or other musculoskeletal pain.
Vintage Joye CBD Organics has numerous products for you to choose from for many of your health and wellness needs. Because CBD is so highly publicized and at the forefront of media outlets and health debates, it's important to understand the CBD oil difference.
CBD oil is known to show beneficial results for seizures, neurodegenerative disorders, cancer, autoimmune diseases, acute pain, and other chronic ailments. What is CBD oil? Well, most of us have heard about the health advantages of Hemp or Marijuana, but the significant difference with CBD is that it has none of the psychoactive factors or intoxicating effects of cannabis. The THC level (the chemical that makes one high) is removed through an extraction process. In most cases CBD oil is primarily free of the mood-altering components, this is especially the case with the Organic CBD oil used in Vintage Joye™ CBD Organics products. CBD oil is available in salves, tinctures, capsules, sprays, and edible food products through Vintage Joye™ CBD Organics.
Recent studies have shown multiple health benefits of CBD:
• Relieves pain
• Anti-inflammatory response
• Lessens nausea
• Reduces anxiety
• Reduces cognitive impairment
• Anti-tumor factors
• Cancer cell death
• Cancer cell growth inhibitor
• Reduces Seizures/anticonvulsant
• Anti-psychotic
• Improves sleep
• Fights viral infections
• Relaxes muscles
• Anti-muscle spasm mechanisms
• Reduces beta-amyloid plaque
• Promotes pet health and reduces anxiety
• Reduces skin inflammation
• Brightens and tightens skin
Vintage Joye™ CBD Organics has done diligent in-depth prospecting to find the right supplier of their CBD oil, as many farms and providers have less than average, low-quality products. For example, many companies CBD oil has mold, mildew, fungi, e Coli, bacteria and other harmful chemicals in their end product.
The highly-sought after US-based farm that CBD Organics uses to process their CBD oil is the elite choice with the highest of standards. They have developed a system through their science department to clone their cannabis stevia plants that have produced the most substantial amount of CBD and the lowest amount of THC. This allows them to have a very accurate and consistent end product through and through. They also have developed a way to get the most volume of the psychoactive THC levels out of their plants. And through their patented CO2 extraction process, they actually can get their THC level down to zero! So, when you buy products from Vintage Joye™ CBD Organics, you can rest assured that you are getting the highest quality of pure CBD oil on the market.
Vintage Joye™ CBD Organics offers a wide variety of products, to help you achieve personal results and address your specific needs. Whether you want to benefit from CBD oil for a particular health property, or if you'd like to explore the multitude of anti-aging advantages, or perhaps you'd like it for your pets nutritional needs, Vintage Joye™ CBD Organic's products range from salves, oils, sublingual sprays, serums, moisturizers and pet treats.
To find out more about their products, please visit the Vintage Joye™ CBD Organic's website at vintagejoyecbdorganics.com, or call 239-263-1050.
Start to Increase Your Margins with The Purest Award Winning CBD On The Market!
If you are a store owner looking to add our CBD Product Line please visit our Wholesale Option on our website.
Just a few of the individuals who could make use of CBD oil in their practices or places of business include:
. Doctors . Massage Therapists . Psychiatrists
. Natural Health Practitioners
. Owners of Natural Health Stores
. Anyone who works with individuals suffering from any of the conditions known to benefit from use of CBD oil