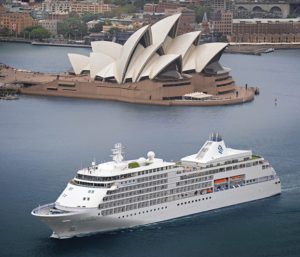 One of life's greatest pleasures is brought to us through unique experiences. Experiences of new sights, sounds, tastes, touch, and communication are what give us lasting memories and bonds. Silversea Cruise Line knows exactly how to welcome you to the WORLD.
Liz Hillman, Senior Travel Specialist of Preferred Travel of Naples recently journeyed on a 121-day world cruise on Silversea's Silver Whisper, elite cruise ship. Her journey began in Los Angeles and ended in the eternal city of Rome, but before we get into all of the alluring ports of call that she experienced, the ship deserves a bit of affectionate doting of its own.
Unlike any other, the Silver Whisper embodies luxury at its finest. With a staff to guest ratio of one-to-one, impeccable amenities, every stateroom is a suite, and every suite has a butler at your beckon call; this ship is passenger-centric wrapped in ultra-lavish surroundings and service.
Liz is a very active woman, and she loved that every morning she met up with an exercise trainer and other energetic individuals to walk the ship at sunrise. With a new activity offered every 15 minutes, Liz met so many new people and made lifelong friends in water aerobics, arts and craft classes, wine tastings, and cooking classes. She even took Italian lessons from the Ship's Cruise Director, Fernando De Oliveira, whom she describes as a legend. He speaks eight languages and is a delightful, approachable resource from Portugal that has experienced years of world travel.
The food is, of course, world-renowned with new chef-inspired delights at breakfast, lunch, and dinner and in between for everyone onboard. From the customary filet, salmon and lobster offered at the main restaurant; to La Tarrazza, a delicious, Italian dining experience; to the pool grille; and the most exceptional crème de crème, La Dame Restaurant. Liz celebrated her birthday in La Dame with 10 of her newest friends, where they experienced the highest quality meals to suit any soul. You could eat around the pool or have your meals delivered to your suite. Everything is possible on the ship, even cooking your own dinner on a hot stone if that suits your carefree personality.
Liz was the Signature host for Preferred Travel, so she represented the 300 agencies that makeup Signature Travel Network. This responsibility was delightful, as Liz was in charge of personally greeting each Signature passenger, making welcome packets for them, hosting cocktail parties, having meals together, sending birthday and anniversary cards, and most importantly, making new friends and acquaintances.
When I asked Liz to tell me why someone should take this cruise, she replied, "The smaller size of the ship and the contemporary details, coupled with the genuine personalities of the caring staff (who call you by name), seeing the world in luxurious style and filling your heart with immeasurable memories is exactly why I will be going back again next year." With a laugh, she added, "If I'm invited." The entertainers and ship's onboard enrichment program speakers were incredible!" I did not want to leave the ship after 121 days! I can't wait to have the opportunity to do it again."
The Cruise and Ports:
Liz was on the ship for the full, consecutive four months, but what many people don't realize is that the trip is segmented for passengers that would like to disembark in specific areas for longer periods of time, or for individuals that would prefer to make the journey shorter.
For the "world travelers" that stay on the ship the full amount of time, they are given extra special treatment, on even more, so than the other passengers. Because this trip was broken up into eight segments, the world travelers were treated to extraordinary overnight evenings of five-star entertainment, dining and hotels, which were often coupled with famous singers or local celebrities and luminaries from places like Sorrento, Hong Kong and Melbourne.
The Silver Whisper departed from Los Angeles, California for five days at sea on the way to the Hawaiian Islands. Once they got to Moorea and Bora Bora, Liz had already made some wonderful friends, and her group of 20-30 passengers ate meals together, and enjoyed each other's company, as they discovered the Islands and other unique destinations.
They saw the Cook Islands, North and South New Zealand, which Liz describes as mesmerizing. The got to spend a full 10 days in New Zealand, so experiencing the culture was comprehensive and magical.
From Australia where they explored the Great Barrier Reef to a multi-day adventure in Hong Kong, visiting Vietnam, to the beautifully clean, desirable city of Singapore, the excursions and tours were impeccably created for everyone to enjoy.
The unique experiences continued, as they explored the modern city of Kuala Lumpur, India, Oman, Jordan, Egypt, the Suez Canal into the Mediterranean Sea, Greece, and Sorrento and then their final destination was Rome. Who could ask for a better journey? With the well-planned details, lavish cruise line and amenities, being called by your name by the staff and other passengers, this is what most of us long for in an elite travel experience like a world cruise.
The Silver Whisper's next world cruise is booking up rather quickly, but there are still suites available for you to embark on your greatest adventure and memorable experiences of food, culture, luxury at its finest, people, and friendships that last a lifetime. According to Silversea Cruises, this is what they've got planned for you:
World Cruise 2019
Designed to spark the imagination of avid travelers, next year's World Cruise, titled "The Tales of Tales," is a far-reaching 132-day journey from San Francisco to London. Hosted aboard Silver Whisper, travelers will voyage in luxurious comfort to 52 ports in 31 countries across five continents. Plus, with 16 overnight calls and numerous late-night stays, guests will have ample time to delve deeper into iconic destinations.
With this unique voyage, Silversea has the pleasure of inviting nine writers aboard to seek the drama of the unknown and the amazing. They will each create a short story inspired by regions of sublime natural beauty and exotic cultures. The result will be an exclusive anthology of the voyage, an unprecedented portrait of The Tale of Tales. Already confirmed to put their pen to paper are Paul Theroux, travel writer, novelist and winner of the James Tait Black Prize for Fiction; and Pico Iyer, novelist, travel writer and essayist since 1986 for Time magazine, Harper's, The New York Times, and The New York Review of Books.
You may even be interested in the 2020 world cruise, which Liz Hillman says will be the answer for those that are continent collectors, as the cruise plans to visit all seven.
If you would like to learn more about your opportunity visit the world, Preferred Travel of Naples is the best place to start. With the highly traveled and experienced staff to guide you, rest assured that you will be in the best hands.
To find out more about Silversea's cruise lines world travel voyage, or other fascinating destinations, please contact Preferred Travel of Naples at 239-261-1177 or visit preferrednaples.com.