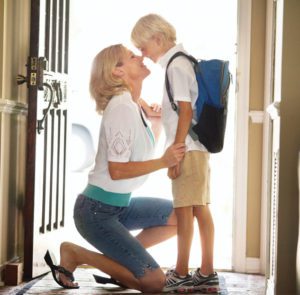 Summer is almost over, and school is just around the corner. This upcoming transition naturally is causing great stress throughout your household; however, I encourage you to better manage that stress by practicing self-care. Self-care is imperative to your health and wellness, especially for a mom working an average of 98 hours per week. I know what you're thinking, "where does she think I'll find the time for self-care?" Have you scheduled doctor's and dentist appointments for the whole family? You have time for those appointments, right? Then you have time to schedule some self-care.
Humans naturally favor our physical health over our psychological health. It is not our fault; we were taught this unconsciously at a young age by being brought to doctors' and dentist appointments for all of our health needs. These very basic patterns of behavior influence us to focus solely on our physical health throughout our lives, paying little attention to our psychological health. However, there is enough research out there to support the connection between psychological and physical health. When we neglect our psychological health, our physical health will undoubtedly suffer in multiple ways, becoming more severe over time. The great news is an easy step toward improved psychological health is through self-care.
Self-care is the simple practice of taking conscious actions to preserve or improve one's own overall health and wellness, physically, mentally and emotionally. Self-care can look different for everyone, because you can choose to practice things that you enjoy in order to promote the best version of your health and wellness. Don't let this openness overwhelm you. Here are some helpful tips to keep you focused and get you started:
• Focus on the physical
a. Get active
b. Get enough sleep
c. Promote a nutritious, healthy lifestyle
• Give your brain a boost
a. Find a therapist
b. Journal for 10 minutes, stream-of-consciousness style
c. Meditate
d. Read
• Pamper yourself
e. Take a hot bubble bath
f. Plan a spa day
g. Listen to your favorite music
• Find time for your friends
a. Schedule at least 1 interrupted hour with a friend
b. Join a book club or mom's group/meet new people
c. Go somewhere local you've never been together
• Take a leap
a. Do something big that you've never done before
b. Create a "no" list with things you no longer want to do, ex: No answering your phone or texting at dinner
c. Try eliminating something unnecessary from your schedule
• Hone your skills
a. Get back into a sport you love
b. Learn a new hobby/language
c. Write down one goal or intention for
the week
These seem simple enough to implement right? Good, just because you may not have been raised with regular emotional check-ups, doesn't mean that you can't have them now. In fact, now is the most important time to focus on your psychological health, not just for you, but for your children. The more self-care you practice, the more your children will learn how to implement self-care into their daily routines as well. This way as years go by, self-care can become as normal as annual wellness exams with your primary care physician.
Jessica Yarab, LCSW
As a Licensed Clinical Social Worker (LCSW), my passion is helping people live their life to the fullest! Challenges, transitions and stressors are inevitable in this world, but I strive to use my education and experience to help adolescents, young and older adults live joy-filled lives, regardless of circumstances.
With a diverse background, I am well versed in a wide range of areas of clinical interest; including substance abuse, mood disorders, self-esteem/body
body imagine, anger management, grief and loss. This versatility is at the core of my work ethic as a Social Worker; helping as many people as I can with whatever obstacles life is putting in front of them.
Lotus Living Therapy
239-360-2131
www.lotuslivingtherapy.com
501 N Goodlette Frank Rd. Ste C210
Naples, FL 34102