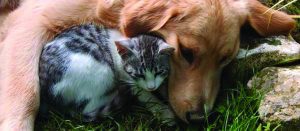 Just like humans, pets need annual physicals and wellness exams to make sure they are free from illness, disease-related disorders, and complications that can lead to chronic conditions.
At Best Friends Animal Hospital, they provide a comprehensive Wellness Blood Work Program, which they advocate for all aging animals.  Usually starting around the age of 5, pets should begin to receive yearly blood panels.
The blood is assessed for various conditions including, kidney function, liver enzymes, protein levels, parasitic diseases, electrolyte balance of sodium and potassium, pancreatic enzymes, thyroid metabolism, platelets, anemia disorders, infections, and cancer.
You've probably heard the saying, "The best doctor in the world is the veterinarian. He can't ask his patients what is the matter; he's got to just know."
—Will Rogers
Because our fury friends can't tell us when they're not feeling quite right, often times, their symptoms are unclear to us until they cause them a great deal of pain and have become out of control.  As with humans, it's better to be proactive about healthcare and maintain annual wellness exams and physicals, to ward off the daunting effects of chronic diseases like cancer, heart disease, and pancreatic and liver function failure, which are prevalent in many animals.  In addition to being preventative, catching any disorders early on will give your pet a better chance at treatment and survival rate, so that you can pamper and love them for many years to come.
The Best Friends Animal Hospital Difference
Best Friends Animal Hospital believes in providing quality health care for your pet in a warm and welcoming environment. Their doctors routinely attend educational seminars to stay abreast of the latest medical treatments and technologies. Their hospital also prides itself on having state-of-the-art equipment including a digital X-ray machine and surgical laser, both of which are used in human medicine. The digital X-ray machine allows them to take high-quality radiographs in seconds and gives their doctors images with better diagnostic quality. The surgical laser helps to decrease pain and bleeding as well as increase healing speed of the incision.
Best Friends Animal Hospital offers free 24-hour access to your pet's medical record through a pet portal, as well as home delivery of your pet's prescriptions through an online store. Their online
Pharmacy carries prescription medications, heartworm, flea and tick preventative, pet food, treats, and toys.
The doctors and staff are devoted to helping your pets' live longer, healthier and happier lives because they understand what an important member of your family your pet. Their knowledgeable staff is available to answer any questions you may have, and they look forward to seeing you and your pet(s) soon. Please visit their website to find out more, or call them to book your appointment.
Best Friends Animal Hospital
239-768-7387
www.bestfriendsanimalhosp.com