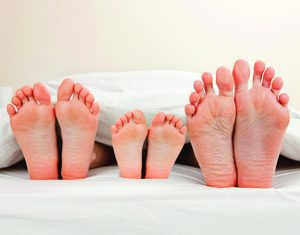 Sometimes the pain that children try to express is often overlooked as growing pains; however, when it comes to issues and discomfort with their feet, their symptoms should be taken seriously, as foot conditions usually start when we're young.
Common Childhood Foot Disorders
• Heel Pain
• Achilles Tendon Ruptures
• Turf Toe
• High Arches or Flat Feet
• Ingrown toenails
• Warts
Heel Pain: The foot is comprised of many different bones, joints, tendons, and ligaments; these include the plantar fascia. The plantar fascia is a band of ligament tissue. It stretches from the heel of your foot to the middle, and it is responsible for reinforcing and supporting your arch. When this area becomes inflamed due to extreme tension (overuse and sports-related) on the ligament, pain can erupt every time your child takes a step, and if left untreated, many kids will even experience discomfort while at rest.
Achilles Tendon: The Achilles tendon is the largest tendon in the body. It is tensed and flexed when we walk, run, stand, jump and is especially stressed when we move quickly from side to side. Although the Achilles tendon can withstand high stresses from most movements, it is extremely vulnerable to injury. Ruptures of the tendon are either the complete separation of the tendon fibers or partial tearing so that the tendon can no longer perform its normal function. This happens with ballistic jumping movements like in tennis or running and jumping activities.
Turf Toe: The big toe joint gets extreme wear and tear from running, sprinting off of the foot, jumping and balancing the body, so it's not surprising that one of the leading injuries in sports or for active individuals is a sprained toe joint referred to as turf toe.
High Arches or Flat Feet: If your child has high arches or flat feet (no arch), they need specific types of shoes that support the plantar fascia ligament and arch muscles; otherwise they will experience cramping and pain, which can lead to plantar fasciitis. Stretching and specific exercises can also help to alleviate their discomfort.
Ingrown Toenails: If your child wears tight shoes or shoes with limited toe box space, their toes will be crowded together, and the sides of the toenail can curl in due to the pressure on the nail bed. This is quite common in ballerinas and soccer players due to the repetitive force on the toes and tight-fitting shoes. Other causes are not cutting the toenails correctly.
Warts: Warts are non-cancerous growth that affects many children (especially the feet) due to its ability to multiply and spread to others. There are approximately 60 different varieties of warts, but they are all caused by the papillomavirus. They are highly contagious, so locker room floors are one way that school children spread the virus. Your podiatrist will treat the growth by freezing, cauterizing, or other medicinal applications that are specific to the type of wart that your child has.
There are many medical ancillary options that your podiatrists can prescribe, such as ankle braces, high top orthotic shoes, lace up supports, taping methods, and shoes made with a medial-
lateral supportive base. It's important to have your child examined by an experienced podiatric professional if they're experiencing any foot pain because alleviating the cause will help to reduce the progression of injuries in the future.
Dr. Gavin, Southwest Florida's Prominent Podiatrist
Dr. Gavin earned his Bachelor of Science in Biology from Niagara University in Niagara Falls, NY. He is a graduate of Kent State University College of Podiatric Medicine located in Independence, OH and completed his surgical residency at Humana Specialty Hospital in Memphis TN.
Dr. Gavin is board certified in foot surgery by the American Board of Foot and Ankle Surgery and is a fellow of the American College of Foot and Ankle Surgeons.
He has a solo practice in Fort Myers, FL where he has practiced since 1986 including Shell Point Village retirement community for 21 years. Dr. Gavin has lectured at Niagara University, NY, Midwest Podiatry Conference and the APMA national podiatry meeting. Dr. Gavin specializes in diabetic foot management, trauma, and limb preservation surgery.
After returning from Knoxville, TN, where he worked closely with vascular surgeons specializing in limb revascularization and reconstruction in foot surgery, Dr. Gavin continues to perform advanced podiatric care in Southwest Florida area.
Now Accepting New Patients.
To schedule an appointment, please call:
239-887-4621
www.DrDavidGavin.com
15620 McGregor Blvd
Suite 125 Fort Myers, FL 33908