By Greg Pascucci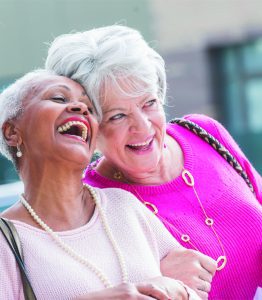 Each May older adults across the country are honored for their contributions to our nation during "Older Americans Month". This year's theme is "Engage at Every Age," and emphasizes that you are never too old (or young) to take part in activities that can enrich your physical, mental, and emotional well-being.
The Administration on Aging, part of the Administration for Community Living, leads our nation's observance and points out that no matter where you are in your life, there is no better time than now to start engaging. Here are a few tips for how you can engage at every age:
Physically
The National Institutes of Health (NIH) advises everyone to include physical fitness in their daily routine. This is true, regardless of age. Even older adults with chronic pain and health conditions can incorporate exercise into their lives. Aqua aerobics, for example, is ideal for those with arthritis while stretching has been found to be beneficial for people affected by Parkinson's disease.
At The Carlisle Naples, an active retirement community, the fulltime Program Director ensures a calendar chock full of opportunities for physical activity. From traditional exercises such as Stretch & Tone Aerobics and Tai Chi to more fun, interactive classes like Beachball Volleyball, residents are reaping the many benefits of maintaining an active lifestyle.
Mentally
According to Martin Seligman, who is often called the "father of positive psychology", being part of a community is tied to happiness, which in turn affects your mental health and overall wellbeing. Seligman outlines five key elements that help us flourish: positive emotion, engagement, relationships, meaning and accomplishments (coined PERMA).
Attending a lifelong learning class, volunteering at a local school, or learning a foreign language are all ways in which to stay sharp mentally.
The Carlisle provides the perfect environment for older adults to form social connections as well, a key component of successful aging. The community's maintenance-free lifestyle also enables residents more leisure time to pursue new interests or rediscover a hobby. Research finds that when people are engaged in activities they enjoy, they experience numerous health benefits ranging from lower blood pressure to elevated moods.
Emotionally
Positive emotional wellbeing is essential to our daily lives. It can affect everything from recovery time from an illness to one's overall outlook on life. Studies have shown that practicing mindfulness (being present in the moment) and engaging in activities such as meditation can help improve emotional wellbeing.
Maintaining close relationships with friends and family also fosters positive emotions. Additionally, pet owners have been found to have higher levels of emotional satisfaction than their peers.
"Unfortunately, our social circles tend to get smaller as we age," said The Carlisle's Executive Director Bill Diamond. "At The Carlisle, our residents are finding just the opposite. From bonding over similar interests to finding a new neighbor from their hometown or state, there are no shortages of friendships being developed. Our residents have truly formed genuine relationships."
Older adults play a significant role in the lives of society, often imparting their life experiences and wisdom to the younger generation. This May and beyond, we encourage Collier County's older Americans to continue shattering stereotypes and engage at every age!
Located at 6945 Carlisle Court in Naples, The Carlisle offers spacious one-and two-bedroom residences, weekly housekeeping and flat linen services, basic cable TV, all utilities except telephone, and a complimentary full breakfast plus choice of lunch or dinner in the community's gourmet-style restaurant. For more information about the community, please call 239-221-0017 or visit www.TheCarlisleNaples.com.
The Carlisle, a luxury, resort-style senior living community in North Naples, offers both Independent and Assisted Living lifestyles. Available on a monthly fee basis, the ECC-licensed and CARF-accredited community boasts a full range of services and amenities including 12-hour restaurant dining, housekeeping, transportation and activities. Located on Airport-Pulling Road, between Pine Ridge and Immokalee Roads, the award-winning community's lush tropical environment is highlighted with meandering walking paths around three lakes and tranquility gardens. For more information or to schedule a tour, please call Director of Marketing Greg Pascucci at 239-221-0017.
Luxury Rental Retirement Living
6945 Carlisle Court, Naples, FL 34109
239-221-0017 . www.srgseniorliving.com