By T.J. DePaola, PharmD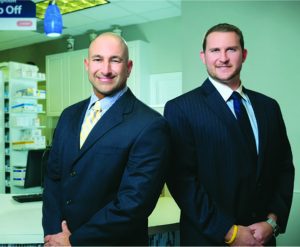 September is National Cholesterol Education Month, marking the perfect time to learn more about minimizing cholesterol-related heart events. According to the National Institute of Health, heart disease is the No. 1 killer of women and men in the United States. Each year, more than one million Americans suffer from heart attacks, and about a half million people die from heart disease. Blood cholesterol is a major factor in these events – that's because higher blood cholesterol levels also lead to an increased risk of developing heart disease or experiencing a heart attack.
The relationship between cholesterol and heart disease
Excessive cholesterol in the blood builds up along the walls of the arteries. Over time, this build up causes 'hardening or narrowing of the arteries,' which slows down or blocks blood flow to the heart. A shortage of blood and oxygen to the heart can result in chest pain, while heart attacks occur when the blood supply to a portion of the heart is completely cut off by a blockage.
The good news is, there are major benefits to reducing high cholesterol: a lower risk of developing heart disease; and a reduced risk of heart attacks. In short, lowering blood cholesterol levels reduces cholesterol-related heart risks.
Factors effecting cholesterol levels
Diet – reducing the amount of cholesterol and saturated fat (fatty meats, fried or baked foods, lard, cream, butter, cheese and other dairy products) in the diet helps lower blood cholesterol levels.
Weight – losing weight can help lower LDL (bad) cholesterol, raise HDL (good) cholesterol, and lower triglyceride levels.
Physical Activity – regular physical activity can help lower LDL (bad) cholesterol, raise HDL (good) cholesterol, and help lose weight.  We should all aim to be physically active for at least 30 minutes every day.
Factors such as age, gender and heredity also play a role in high cholesterol incidence, but those cannot be changed. For example, as men and women get older, their cholesterol levels rise. High blood cholesterol can also run in families. Regardless of risk factors, lowering cholesterol is important for everyone, whether younger, middle aged, or older adults.
To help with this goal, Cypress Pharmacy provides patrons with a supplement program to assist in achieving all wellness needs. This includes the supply of recommended nutrients – fish oil, coenzyme Q10, vitamin D, B-12, niacin, and vitamin E – needed to help protect against heart disease. Cypress Pharmacy also offers a Cardio Health Support product, with hawthorn and coenzyme Q10, formulated to provide support for a healthy cardiovascular system.
For more information about help lowering cholesterol levels, contact the pharmacists of Cypress Pharmacy at 239-481-7322 and consult with your physician.
Cypress Pharmacy has been providing pharmaceutical and health care services in Fort Myers for more than 40 years. The entire staff, including pharmacists T.J. DePaola and Justin Ceravolo, are dedicated to providing the best possible service to every customer. For more information, call 239-481-7322 or visit www.cypresspharmacy.com.