Wendy Rickenbach-Barclay, Owner-Certified Senior Advisor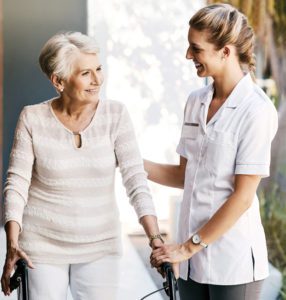 In 1983 President Ronald Reagan declared November to be "National Alzheimer's Awareness Month". So much has changed during that time. Memory Care communities have been replacing many Skilled Nursing home settings. Assisted Living communities began to increase, and many of those now include a specialized "Memory Care" environment within their community. Today over 5.4 Million people have a diagnosis of Alzheimer's/Dementia or MCI (Mild Cognitive Impairment). Of that alarming number, over 200,000 people under the age of 65 have Early On-set Alzheimer's. So where do you start if a loved one has this disease? We start at the beginning of the journey.
Each day your CarePatrol team meets with families, caretakers, and guardians of those affected by Alzheimer's and dementia. Our first question is, "What is your plan?" "Do you have a plan A, B, and C?" Many respond with a question back; "What do you mean by a plan?" If our contact person is the caregiver- What is your plan if your loved one becomes ill or if you must travel? What is the backup plan? If the backup plan fails, what is the next plan? Has there been any consideration to move into an Assisted Living or Memory Care community or any discussions within the family or with friends who play a role in the loved one's life? Has the loved one's doctor been consulted in any planning? Having open and honest conversations to review a variety of solutions to each concern is a must. CarePatrol has spent years preparing to be your expert in assisting you with these questions and answers.
The questions continue with – What is going to be the best circumstance financially, socially and medically for your loved one? And, what will allow the family or caregivers an opportunity to have their optimal life balance? With a holistic approach, your CarePatrol Senior Care Advisor will begin by completing a comprehensive care discovery related to care requirements, personal and lifestyle preferences along with a relative budget. Your CarePatrol experts know who to call when the time comes. CarePatrol refers seniors and families to varied resources from elder law attorneys, financial advisors, veterans benefit services, senior moving companies and more. In addition to educating families and seniors about mobilizing quality resources and senior services, loved ones can expect to receive referrals to safe care options. Giving peace of mind, CarePatrol reviews the care and violation histories of the communities and resources we recommend. With the expertise of CarePatrol, an overwhelming number of options will be brought down to a manageable number for consideration.
Before anyone heads out to tour with CarePatrol, the Senior Care Advisor will be able to answer questions and give expert recommendations regarding how to best explore these options.
Considerations to be fully addressed when choosing a community will include:
Atmosphere: Initial impressions, welcoming, visually pleasing; staff, resident & visitor interactions, activity level, cleanly, orderly
Appearance: Layout, parking, elevators, accessibility for wheelchairs/walkers, handrails, floor surfaces, temperature control, lighting
Medical/Healthcare: State Licensure: Standard, Limited Nursing Services, Extended Congregate Care; Healthcare Providers, Registered Nurses or Licensed Practical Nurses, staffing ratios, medication administration, injections, oxygen, wound care, incontinence care
Services: Meals, dining areas, housekeeping, laundry, safety checks, transportation, television, cable, internet, phone, scheduled activities, exercise, bathing/showering, salons
Policies: Visitors, pets, smoking, trash, recycling, alcohol
Apartments/Living Spaces: Windows, thermostat-heating/cooling, refrigerator/kitchen area, emergency response system, bathroom set up & accessibility, location of TV/phone, requests for alterations
Contractual Agreements: Requirements for admission, pricing, full description of services, level of care determination, vacate notices, process for ongoing resident assessments, Medicaid acceptance, processes for communication and appeals.
The process of navigating these next steps in life can be overwhelming. Allow your CarePatrol team to partner with you and guide you so that you have the answers you need to make an informed choice regarding care for your loved one.
Care Patrol
We are a No Cost community resource and we look forward to serving you!
Call us Today at 941-237-0846