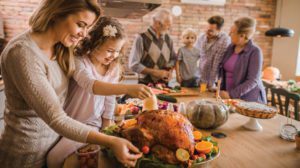 This time of year, we find ourselves baking cookies, pies, roasting delicious meals for our holiday celebrations with friends and family, but this time of year also produces a spike in kitchen injuries. The following are a few tips from the Bonita Health Center to stay safe, healthy, and happy during your festivities.
Tip #1
Cutting yourself while cutting and prepping is one of the most common injuries that medical professionals treat year-round. It's especially prominent during the holidays when we are overwhelmed with shopping, cleaning, wrapping, entertaining, and trying to accommodate all of our guests with ease and grace. Take time to be extra cautious when you're using kitchen knives, mandolins, or other sharp objects.
Tip #2
Burns are equally as dangerous, and the risks are increased if we are not using caution. Our ovens are typically on for hours at a time during the holidays, so taking precautions when placing and removing trays is important. It's also essential to make sure that when the oven is open, no children or pets are close by to burn their fingers or paws accidentally. Always use oven mitts to take out any baked or roasted foods. Using extra precaution is also critical when using the top range. Don't things overboil, and don't forget that the range top will stay hot for a long time after something has finished cooking. If you're using a deep fryer, there are not enough precautions to warn you about the hazards of hot oil, except to say deep fryers are very dangerous!
Tip #3
Glassware is often accidentally broken during the holidays. If your guest drops a glass, it is imperative to use the safest means to pick up the broken pieces and to safely get them into the trash and removed to alleviate any cuts.
Tip #4
Accidents happen. It's critical to have a fire extinguisher and to know how to use it properly. If anyone gets hurt, it's best to seek medical care as soon as possible. Knowing how to wrap a wound and having the appropriate supplies at home will make the trip to urgent care much more comfortable for those involved.
Bonita Care Health Center offers urgent care, imaging services, physical therapy, and surgical treatment options.
BCHC's Urgent Care Benefits
• Serving the Community for 19 years
• Urgent Care
• Open 7 days a week
• M-F 7am to 7pm, Sat-Sun 8am to 4pm
• SmartLine Online Check-in "Wait Your Way"
• BCHC has been using the SmartLine for three years now and their waiting room during season has gone from standing room only, to having 4 to 7 patients standing by for a physicians.
• 60% of ER visits would be better served in an Urgent Care
• Urgent care is for non-life-threatening illnesses and injuries.
• BCHC Urgent Care can cost up to 10X less than the ER.
• We are the lower cost alternative to visiting the ER.
• Onsite full imaging center
To find out more or to schedule an appointment, please call (239) 949-1050, or visit bonitahealthcenter.com
Bonita Community Health Center
(239) 949-1050
www.bonitahealthcenter.com