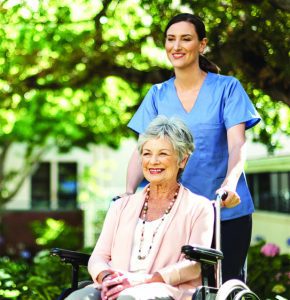 Each year, nearly 800,000 people suffer from strokes. Cardiovascular disease can take on many forms, but strokes often leave individuals
impaired either physically or mentally. The aging population here in Florida is growing, people are living much longer than just a few years ago, and with this longevity, often comes vascular disorders that lead to specific disabilities. If you are or a loved one has experienced the repercussions of a stroke, you are not alone. There are many support systems available, and one of the most underutilized is home care.
Home care offers support within the privacy of your home. Most individuals would rather live out the remainder of their lives in their homes, as opposed to a facility, and Home Care Companions are the piece of the puzzle that pulls the picture altogether.
What is Home Care?
Trained caregivers provide support with basic activities and functions and instrumental activities called Activities of Daily Living and Instrumental Activities of Daily Living or limited skilled care to allow a person to live safely in their home.
Touched By An Angel Senior Care provides in-home care. This allows your loved one to remain in their home while still getting the attention they need and is typically more affordable than the other types of long-term care, depending on the schedule. Some examples of home care include:
• Companionship/Daily Assistance
• Dressing/Grooming Assistance
• Meal Preparation/Nutrition
• Medication Reminders
• Grocery Shopping/Errands
• Transportation to Doctor Visits
• Daily Check-Ins
• Hospital/Facility Sitters
• Light Housekeeping/Laundry
• Alzheimer's/Dementia Care
• Live-In Services and more
Touched By An Angel Senior Care is locally owned and composed of compassionate people who are deeply committed to helping our cherished seniors in our community age gracefully, safely and comfortably at home without compromising their dignity or independence. Because finding the right home care provider is not an easy task and can be overwhelming, Touched By An Angle Senior Care knows the obstacles that you face, having to watch a loved one struggle with day-to-day activities.
Touched By An Angel Senior Care knows this can be emotionally and physically draining and understands what you're going through. They are here to help you reduce the stress, by providing a variety of home care services at an affordable rate for your loved one right at home. Their caregivers are carefully selected, trained, and thoroughly screened with extensive background checks. They make aging in place a less complicated process for you and your family.
Their goal is to provide clients with professional, convenient, customized and affordable care with no minimums required; while keeping their services "top notch." They are dedicated to helping clients remain where they want to be the most—at home. Many things make our homes feel special, but it's the comfort that's most important to Touched By An Angel Senior Care and their staff.
To learn more about how Touched By An Angel Senior Care LLC, can help you or your loved one contact them today at 239-215-8803.
239-215-8803
www.TouchedByAnAngelSeniorCare.com