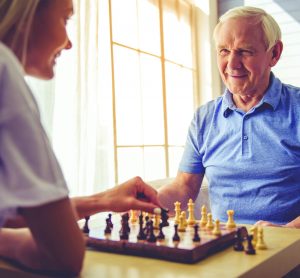 HarborChase of Sarasota will be transformed into Wonderland on Thursday, June 22nd for a Mad Hatter's Tea Party from 2:30 to 4 pm to benefit our local Alzheimer's Association. Your ten-dollar donation at the door will allow you to fall down the rabbit to an extraordinary High Tea.  A concert violinist will weave their magical spell while HarborChase tantalizes your taste buds with tea and treats.
The Alzheimer Association's mission is to eliminate Alzheimer's disease through the advancement of research, to provide and enhance care and support for all affected; and to reduce the risk of dementia through the promotion of brain health. Don't be late for a very important date and help support the Alzheimer Association.
For more information or to RSVP to this event, please contact our Director of Sales, Karlie Haack at 941-468-2838
HarborChase is known for our unique approach to memory care.  As soon as you walk into The Cove, a safe, serene and loving harbor for our residents and their families, you will notice the difference.  Skylights, wide hallways, lots of common areas and bright but relaxing colors combine to install a sense of peace and tranquility.  There are lots of patios for relaxing and enjoying the courtyard and large backyard, where residents love to rediscover their gardening skills.
Our compassionate and dedicated team is trained to recognize the unique needs of adults facing memory challenges. They ensure that residents enjoy optimal health, dignity and spiritual well-being, providing family members with true peace of mind.
HarborChase's acclaimed memory care community is designed to create pleasant and successful days for our residents. We aim to help each resident maintain their sense of self by honoring their life experience through stimulating programming, helpful assistance and high personalized care.
Every day, our associates strive to make a difference in the lives of our residents and family members by serving our residents with meaningful and nurturing care that truly transcends the expected.
HarborChace
5311 Proctor Rd., Sarasota, FL 34233
941-387-9070