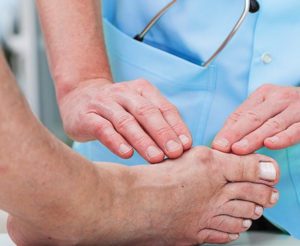 More than 75% of people in the United States will experience foot disorders. A large percentage of these individuals are in the aging population, but other factors can contribute to foot pain, like standing on your feet for extended periods of time, ill-fitting shoes, hereditary and genetic disorders, excessive exercise, trauma, and diseases. However, the most common foot and heel discomfort is caused by a painful disorder known as plantar fasciitis.

Plantar Fasciitis
The foot is comprised of many different bones, joints, tendons, and ligaments; these include the plantar fascia. The plantar fascia is a band of ligament tissue. It stretches from the heel of your foot to the middle, and it is responsible for reinforcing and supporting your arch. When this area becomes inflamed due to extreme tension on the ligament, pain erupts every time you take a step, and if left untreated, many people will even experience discomfort while at rest.
Because plantar fasciitis is one of the most common foot issues, one in ten people will experience it at some time in their life. Usually, the pain is concentrated in the heel area, and it is generally caused by small injuries that occur over an extended period of time. It's quite common for heel spurs, which are bony protrusions under the heel bone to coincide with plantar fasciitis.
There are many treatment options that you can do at home with the guidance of your podiatrist to try and alleviate the painful symptoms of plantar fasciitis. But, because of weight bearing, this area of the foot, in particular, is challenging to heal on its own, The key to getting your foot health back to normal, and you free from pain is to have medically based procedures provided by your podiatrist.
At Home Treatment Options
There are many medical supplementary options that your podiatrists can suggest or prescribe, such as NSAIDs (ibuprofen), icing and resting the foot, ankle braces, high top orthotic shoes, lace up supports and shoes made with a medial-lateral supportive base. Even though, plantar fasciitis can be somewhat "treated/managed" at home with these methods, it's important to be examined by an experienced podiatric professional if you're experiencing any foot pain.
Medical treatment Options
Plantar fasciitis has alternative treatment options that are more stable and show better outcomes in recurrence levels, as compared to these methods. These include advanced stabilization, laser treatment and surgery for progressive cases.
Additional Services Provided:
• Diabetic Foot Care
• Diabetic Limb Salvage
• Diabetic Wound Care
• Diabetic Ulcers and Neuropathy
• Custom Foot Orthotics
• Flat Feet
• Heel Pain/Plantar Fasciitis
• Walking Problems
• Routine Foot Care
• Ankle and Foot Surgery
• Fractures, Sprains, Dislocations
• Minor in-office surgical procedures
• Ankle Injuries/Sprains
• Athletes Foot
• Fungus Nails
• Arch Disorders
• Arthritis
• Bunions
• Calluses and Corns
• Gout
• Hammertoes
• Heel Pain – Spurs and Fasciitis
• Ingrown Toenails
• Neuromas
• Skin Conditions
• Tendonitis
• Trauma
• Ulcers – Chronic Wounds
• Warts
Dr. Gavin, Southwest Florida's Prominent Podiatrist
Dr. Gavin earned his Bachelor of Science in Biology from Niagara University in Niagara Falls, NY. He is a graduate of Kent State University College of Podiatric Medicine located in Independence, OH and completed his surgical residency at Humana Specialty Hospital in Memphis TN. Dr. Gavin is board certified in foot surgery by the American Board of Foot and Ankle Surgery and is a fellow of the American College of Foot and Ankle Surgeons.
He has a solo practice in Fort Myers, FL where he has practiced since 1986 including Shell Point Village retirement community for 21 years. Dr. Gavin has lectured at Niagara University, NY, Midwest Podiatry Conference and the APMA national podiatry meeting.
Dr. Gavin specializes in diabetic foot management, trauma, and limb preservation surgery.
After returning from Knoxville, TN, where he worked closely with vascular surgeons specializing in limb revascularization and reconstruction in foot surgery, Dr. Gavin continues to perform advanced podiatric care in Southwest Florida area.
Now Accepting New Patients.
To schedule an appointment, please call:
239-887-4621
www.DrDavidGavin.com
15620 McGregor Blvd
Suite 125 Fort Myers
FL 33908.