By Matthew Solomon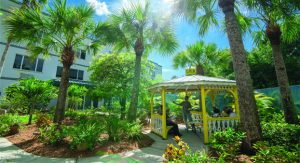 We have all experienced that fantastic moment when a beloved song comes on the radio bringing with it all the emotion and memory we can muster. Maybe it was the song from your wedding or a loved one's favorite tune, no matter the circumstance music has an outstanding way to remind us of days gone by.
That powerful connection between music and memory is exactly what gave birth to the world renowned non-profit and healthcare initiative, Music & Memory. As a non-profit group, the program brings personalized music library to seniors in an effort to improve cognition, emotional attachment, and motor skills. For the first time in 25 years, Aviva- A Campus for Senior Life will be featuring this extraordinary program at our Anchin Memory Care Community.
Led by Aviva Activities Director, April Moschini, the program will use already existing technology such as IPods and IPads to bring residents their favorite music. Residents can choose from hundreds of different artists, genres, and styles to create the perfect playlist for them. Aviva's top-notch nursing team will undergo a rigorous training program provide by Music & Memory which will help them facilitate music sessions and guide residents in a stimulating cognitive exercise. The program which has gained rapid popularity since 2011, targets residents with Dementia, Alzheimer's, motor impairments, and similar physical challenges by giving them unparalleled access to the world around them.
Across the country healthcare facilities and caregivers are sharing the incredible stories of success in residents participating in the program. Residents who prior to starting the program kept themselves isolated or even showed aggressive tendencies have been found to relax and even become more social with those who share their love for a particular artist. One of the most popular success stories from the program was part of Music & Memory's documentary which was shown at Rubin Museum of Art in NYC. In the clip a male resident who was completely incapable of speech is able to use his love of Cab Calloway to not only communicate with the team caring for him but also his fellow residents.
So what will the program bring to Aviva? As a community and one of the few Memory Care centers in Sarasota, our team is always looking for ways to not only challenge our residents but to bring them a whole new aspect to their daily lives. While some of our programs are focused on mobility and motor skills others serve a singular purpose, to ring in a sense of joy, purpose and community. Our hope is that Music & Memory will fill our halls with not only the sound of some of yesteryears greatest hits, but the sound that comes with people enjoying music as a community.
We are so grateful to our volunteers who will be assisting us in this program. Each day volunteers will be communicating with resident families to curate playlists and an individual's most treasured musical memories. These playlists are then downloaded onto iPods and are kept easily accessible for staff and volunteers. Next is where the simplicity of this program really shines. Thanks to today's modern technology which is increasingly portable, our residents can engage with their favorite songs anytime, anywhere. From afternoons spent in the garden to the comfort of their own bedrooms, our residents will have a joyful and stimulating experience brought to them!
At its core Music & Memory takes a simple concept and it applies it in a life changing way. As April stresses when talking about the program, "bringing joy and happiness to residents with dementia is so important when we are helping them 'live in the moment' day to day." By using the power of music to personally engage with every resident we can not only care for them but help make Aviva even more of a place to call home.
Aviva – A Campus for Senior Life is more than just a community, it is a lifestyle. As Sarasota's premier senior rental community we want to invite you to experience the possibilities! Visit avivaseniorlife.org or call 941-225-8369 to schedule a tour.
1951 N. Honore Ave. | Sarasota, FL 34235
941.225.8369 | AvivaSeniorLife.org