Courtesy of American House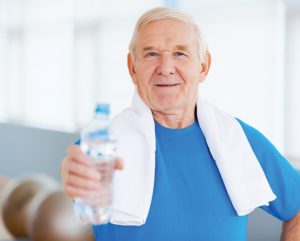 August is "Safety Month," and while we take the time to consider all of the preventative ways to protect ourselves, we often overlook the adverse effects that these hot summer months have on our cardiovascular systems.
According to the EPA (Environmental Protection Agency), "When people are exposed to extreme heat, they can suffer from potentially deadly illnesses, such as heat exhaustion and heat stroke. Hot temperatures can also contribute to deaths from heart attacks, strokes, and other forms of cardiovascular disease. Heat is the leading weather-related killer in the United States, even though most heat-related deaths are preventable through outreach and intervention."
With weather approaching the upper 90's and on some days, triple digits, the heat can be unbearable at times and downright dangerous. High levels of humidity with extreme temps are particularly concerning.
The human body self-regulates heat by sweating and also through radiating heat back into the atmosphere. When we sweat, we perspire potassium and sodium. Both of these minerals help to control nerve function, water balance, and heart rhythm. If you suffer from a heart condition, the loss of these minerals can be detrimental to your cardiac health.
Sweating can quickly escalate into dehydration; therefore, it's critical to stay hydrated with cold water instead of sugary drinks which lead to further adverse effects by slowing the passage of water from the digestive tract into the bloodstream. Dehydration increases the risk of elevated blood pressure, can cause heart palpitations, and limits blood flow.
When body temperature rises, the skin radiates heat into the air to normalize body temperature. When the air is sweltering, the human body is unable to reduce its high temperature this way, because it has no way to radiate heat; nor is it able to cool down, as the atmosphere's temperature is greater than the body's temp. Warm weather makes the heart pump faster, which requires more oxygen. When it's hot, it can be difficult to cool down or breathe efficiently, complicating the heart's normal functioning by putting undue stress on its muscle contractions.
Understanding the warning signs of heat stroke or other heat-related disorders is important. Watch for:
• Muscle cramping and twitching
• Heat rash
• Heart palpitations
• Dizziness
• Fainting
• Headache
• Nausea
• Fatigue
• Confusion
• Falling and stumbling
If you experience any of these symptoms, it's imperative to get to a cool place, drink cool water, and call 911 if your symptoms persist.
Ways to stay cool and avoid heat-related heart issues:
• Drink plenty of water
• Talk to your physician about reducing your diuretic medication
• DO NOT exercise in the heat
• Avoid the hottest times of the day (10:00 am to 4:00 pm)
• Eat plenty of cooling foods, like vegetables and fruit
• Stay in an air-conditioned room
• Avoid caffeinated and and beverages with high sugar content
If you have heart concerns, it's important to contact your physician for a checkup and to schedule an appointment with a cardiologist for diagnostic testing. If you are having symptoms of heart failure, DON'T HESITATE – call 911 immediately.
At American House Senior Living Communities, it matters to us that our residents live a healthy and active lifestyle. That's why we invite experts over for informative presentations, year-round, to discuss healthy living, providing tips and preventative screenings to help our residents live life to its fullest. Get expert advice when you join us for one of our informative health series.
American House has dedicated nearly 40 years to enriching the lives of those we serve. We provide the peace of mind, privacy, services and amenities you want and need. Our communities offer Independent Living, Assisted Living and Memory Care services so you can enjoy access to quality housing, exceptional services, and the freedom to choose. Come experience it all for yourself. Let us show you why so many seniors call American House home!
(239) 243-9557
AmericanHouse.com
14001 Metro Parkway, Fort Myers, FL 33912