By Neetu Malhotra, MD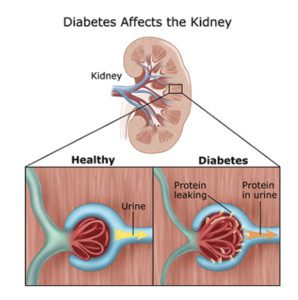 Diabetic kidney disease is a type of kidney disease caused by diabetes. Diabetes is the leading cause of kidney disease. In fact, about 1 out of 4 adults with diabetes has been diagnosed with kidney disease. Kidney damage from diabetes can get worse over time. Kidney failure means that your kidneys have lost the ability to function – less than 15 percent of normal kidney function.
The main job of the kidneys is to filter wastes and extra water from your blood to make urine. Your kidneys also help control blood pressure and produce various hormones to keep you to stay healthy and well. Hence, when they become damaged (i.e from elevated blood glucose, elevated BP, etc), they cannot filter blood like they normally should, which leads to accumulation of waste products in your bloodstream. Kidney damage can also lead to cause other health problems. Elevated blood glucose (also called blood sugar) can damage blood vessels in your kidneys. When these vessels are damaged, they do not work as well. Having diabetes for a longer time increases your chances to have kidney damage.
Diabetic kidney disease tends to run higher in African Americans, American Indians, and Hispanics/Latinos than in Caucasians. However, diet and lifestyle choices also are beginning to play a more significant role in developing diabetes as well. Hence, it is imperative to maintain a healthy weight, eat foods low in salt and exercise regularly. Smoking has also been linked to higher risks of developing diabetes and kidney disease as well.
The best way to slow or prevent diabetes-related kidney disease to try to reach your blood glucose and blood pressure goals. Your health care professional will often test your hemoglobin A1c. The A1c is a blood test that shows your average blood glucose level over the past 3 months. The goal A1c for most people is below 7 percent. Reaching your goal numbers will help you protect your kidneys and overall health.
Associates in Nephrology have been providing services in Southwest Florida since 1984. Our physicians are currently Medical Directors for the Acute Dialysis Center at Cape Coral Hospital, Lee Memorial Health System, and Health Park Hospital. We are the Medical Directors for Davita dialysis centers located in Lee and Collier Counties.
239-939-0999
www.associatesnephrology.com
BONITA SPRINGS
9550 Bonita Beach Rd, 108
Bonita Springs, FL 34134
FORT MYERS
7981 Gladiolus Dr
Fort Myers, FL 33908
CAPE CORAL
1320 SE 8th St
Cape Coral, FL 33990