By Joseph G. Magnant, MD, FACS, RPVI
CALF + ANKLE= CANKLE….when the calf and the ankle appear as one.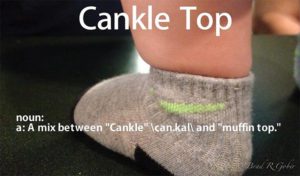 I have seen many patients with similar appearing calves and ankles which have been self described as their Grandma's ankles or stovepipe legs. As I caught the last segment of the show, I found it odd that Dr. Oz was missing VENOUS INSUFFICIENCY, as well as other causes, in the differential diagnosis list.
Pregnancy, fatty foods and heart and kidney problems were identified as potential causes although the mechanisms were not well described. I have seen many patients since that day who had no obvious signs of varicose veins, heart failure or kidney failure, nor were they pregnant but many had what I refer to as "cankles". All patients had ultrasound evidence of severe superficial venous insufficiency.
With an estimated 35-40 million adults in the U.S. affected by treatable superficial venous insufficiency, a significant number of patients may present with atypical signs, such as the above referenced "cankles". Patients may have to urinate frequently at night, often have to loosen their shoes as the day progresses and may note restless legs when they lie down
at night. Elevation eventually relieves their discomfort as the fluid in the legs returns to venous circulation.
This returned fluid is then processed into urine by the kidneys, stored in the bladder and often necessitates frequent nighttime trips to the bathroom (nocturnal diuresis). This straight forward cycle repeats itself daily with increased venous pressure in the ankle area due to leaky vein valves, resulting in seeping of serum (water and protein) out of the thin-walled veins into the surrounding skin and fat (appearance of "cankles") which progresses over the course of the day, until elevation and rest are possible.
I agree with Dr. Oz that effective conservative therapy includes exercise, as this helps the calf muscles pump at least some of the extra fluid back up to the jugular vein. However, unless the most common and treatable underlying cause of "cankles" (venous insufficiency) is
scientifically ruled out with duplex ultrasound examination, I would not encourage any of my patients to have liposuction of their "cankles".
Venous insufficiency should be considered and ultrasound evaluation completed earlier in the assessment of swollen ankles rather than as a last result. Venous insufficiency is treatable with a minimally invasive procedure called endovenous ablation. With 18 years of clinical experience, endovenous ablation is an effective and safe outpatient procedure which has dramatically changed the way patients with venous insuffieiency can be treated.
Joseph G. Magnant,
MD, FACS, RPVI
Board Certified Vascular Surgeon
Trust your leg vein care to Dr. Joseph G. Magnant & the Vein Specialists team.
. SWFL's only IAC accredited vein centers (Fort Myers & Bonita Springs)
 
. More than 25,000 patients treated since 2006
. State of the art vein treatment techniques including Closurefast, Laser, VenaSealTM and Ivus
 239-694-VEIN(8346)