By Svetlana Kogan, M.D.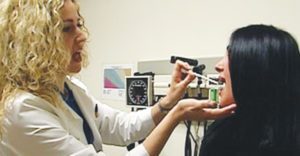 One of the most valued qualities in a doctor is an ability to listen to a patient's story. Most of the answers to the riddle of an illness are hidden therein. The art of listening was taught to us, physicians, in medical schools, but real life has turned tables on our expectation of what it would be like to work in the field of medicine. After 20 years of doctoring, I can say with confidence that never did I have as much opportunity to truly listen to my patients as when I do now in my Concierge practice. Firstly, I do not have to see thousands of patients as I used to do at the beginning of my career. I have a much smaller patient panel and it allows me to fully invest myself into each and every one of them, and to listen to what they want to tell me without having to rush.
Secondly, a concierge model of practice also allows for getting to know the patient's life stories, families, interests, pets, and all those other things that make up who you are as a person and affect how you feel both physically and emotionally. I make sure that my patients have my cell phone and email, and if they have any questions – like on this Saturday morning when I am writing this article – the answer is right at their fingertips. If they need to see me, I accommodate right away. The patient will not have to deal with a physician assistant or a nurse – they will have direct access to me, as it is my education and experience that they trusted their health to – not the middle man.
When my snowbird patients go back to their primary homes in the spring or summer, we stay in touch via teleconferencing, and I can prescribe anywhere in the United States, if necessary. In addition, when my concierge patients are hospitalized in any of the four major hospitals in Naples, I will come and see them in the hospital every day. Doctor -patient relationship is sacred and continuity of care is very important. We want our doctors to be attentive, caring, and dedicated to making us healthier and stronger. This kind of devotion develops over time and it means a great deal to both a doctor and a patient.
Everyone benefits from being a concierge patient, but especially the elderly and the chronically ill people. Let's look at why. Growing older makes us vulnerable to more side effects from drug interactions and complications from procedures and hospitalizations. Concierge doctor takes time to meticulously review all the medications and supplements every time the patient comes to the office. Less is more and so I try to wean people off the unnecessary medications we may have "inherited" from their former primary care doctor.
The majority of health concerns can be solved with a customized "prescription" for proper nutrition, sleep, exercise, and lifestyle modifications. The same is true for the chronically ill patients. These are typically divided into those who have chronic autoimmune diseases and those who have been living with a pain syndrome and have been addicted to pain medications. The former category is patients with thyroid disease, lupus, arthritis, chronic fatigue disorder, and fibromyalgia, to name a few. Many of these patients have been prescribed protocol medications by the hurried overworked doctors who never took the time to look into the root cause of why the body's immune system is attacking itself.
I have successfully weaned many of such patients from their debilitating prescription medications by taking the time to address the mind-body imbalance that typically provokes auto-immune illness.
We used to think that genetics was everything and if you were predisposed to a disease – you would get it sooner or later. Now we know that this is a totally false dogma. Recent studies in epigenetics prove that genetic predisposition accounts for a tiny percentage towards the risk of developing a disease. The crux of the risk lies in the way we handle stress, our daily lifestyle and environment, and the way we eat. Being a Concierge physician allows me to scrupulously analyze all of the above and suggest a natural solution for bringing all of the parts of the equation to balance. This does not happen overnight. I assign "homework" to my patients and they become empowered and in charge of their healing.
The second group of patients chronically dependent on the doctors consists of the folks that have pain syndromes. These people are addicted to pain medications and anti-anxiety pills, commonly benzodiazepines and sometimes sleeping pills. In the non-concierge setting, these patients can only hope for getting their prescription and continue the vicious cycle of dependency. Those who choose to break free from this dependency, will stand a much better chance if they become patients in a concierge practice. Here, as they go through weaning protocols with their pain management doctors, the Concierge physician will put together a plan for the mind-body rehabilitation which is key in this challenging time.
In my practice, I like to use energy therapy, meditation and hypnotherapy, together with proper nutrition and exercise – to help such patients cross the river of change and break free from their medicated past which held them captive.
Nowadays, when the mainstream medical model has failed to address prevention and holistic approaches to healing, Concierge medical practice provides a unique positive and nurturing environment where every patient feels special, cared for, and empowered to heal from within.
Svetlana Kogan, M.D. is a Board Certified Medical Doctor with 20 years of experience. She has appeared as a health expert on FOX, ABC, CBS, and NBC prime time TV, and has authored hundreds of publications for internet and print. She just moved her Concierge Internal
Medicine practice from Manhattan NYC to Naples, where her focus is on fusing traditional medicine with holistic approach to illness and prevention.
720 Fifth Ave S, Unit 209
Naples , FL 34102
Phone: (239) 676-6883
www.customlongevity.com