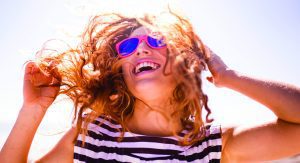 May is melanoma awareness month, and most of us know that melanoma is one of the most dangerous forms of skin cancer.  What many people may not know, however, is that melanoma can form in the eye, called ocular melanoma. With a reported 2,500 cases a year, this is the most common primary eye cancer in adults.
Melanoma develops from cells called melanocytes, which are responsible for producing melanin, the dark-colored pigment in our skin. These cells are also found in our hair, internal organs and in our eyes. Within our eyes, melanocytes can be found in the colored area around the pupil (the iris), the portion of the eye responsible for producing eye fluids (the ciliary body), and the vascular layer in the eye between the retina and the wall of the eye (the choroid). The choroid is the most common site for ocular melanoma to develop.
Risk factors for ocular melanoma include:
• Exposure to UV radiation
• Light colored skin or eyes
• Older age
Ocular melanoma often times does not cause any symptoms and is therefore typically found during a dilated eye exam. If symptoms do arise, they may include:
• Change or decrease in vision
• Change in color of the iris
• Change in the shape of the pupil
During your routine dilated eye exam, your eye doctor may notice an eye freckle, also known as a choroidal nevus, in your eye. This may be a precursor to ocular melanoma. And just as it is important for you to monitor any skin moles or freckles you have, it is important for your eye doctor to monitor any nevus for changes as well. Your eye doctor may monitor for these changes with serial eye examinations, ultrasonography, photographs and/or optical coherence tomography.
Although a link between sunlight and eye melanoma has not conclusively been made, it is worth taking the small precaution of wearing sunglasses when outside.
Sunglasses should have one or more of the following options:
• 100% UV protection
• Polarized lenses
• Polycarbonate lenses
If you or someone you love has developed eye symptoms or may be at risk of developing ocular melanoma, please make sure to schedule an appointment with an eye care specialist immediately to help prevent permanent damage to your eyesight.  Although the treatment options for ocular melanoma are limited, the earlier it is identified the better the treatment options, and the greater the chances of preserving vision are.
Dr. Shaminder Bhullar is a board certified ophthalmologist and fellowship trained retina specialist. He has authored numerous papers and presented at national meetings. He is a member of the Florida Medical Association, American Medical Association, American Academy of Ophthalmology, and American Society of Retina Specialists.
Dr. Bhullar is proud to be able to offer patients of Manatee and Sarasota County the latest treatment options, state of the art diagnostic technology and the most up to date medical and surgical interventions for diseases of the retina, macula and vitreous. He and his staff at the Retina Treatment Center are passionate about providing patients the highest quality of care, with the compassion and respect they deserve.
For more information, please visit retinatreatmentcenter.com, or call our office at (941) 251-4930.