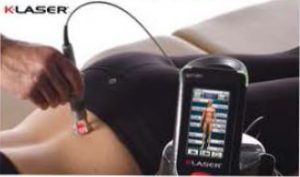 ADVANCED PAIN RELIEF
Unless you or someone you know has struggled with severe injury, chronic pain, or degenerative disease, it's difficult to understand the Impact ii can have on lire.
But if you struggle with chronic pain, you know its debilitating effects. You've likely given up hobbies, family activities, and travel in your efforts to control pain and maintain functionality.
Unfortunately, until now, the only treatment options for these types of conditions have been surgery or addictive pain killers, which often have unwelcome side effects.
But recent advances in medical technology may offer advanced, effective relief.
K-Laser, a state-of-the-art, Class IV laser therapy, has been found to penetrate tissue and initiate healing on a cellular level, even allowing some patients to return to normal, everyday activities with little to no pain.
IMAGINE A DAY WITH NO PAIN
Dr. Ken French, of Naples, has offered K-laser treatments In his practice for years and confirms these findings.
My husband was diagnosed with peripheral neuropathy after his treatments for multiple myeloma. We were told by his doctors that the neuropathy was irreversible. He was suffering badly with poln In his feet and legs so we decided 10 begin treatments and supplements suggested by Dr. French. Incredibly, my husband Improved 85% with 6 treatments. It was amazing/ We ore very pleased with the results and will continue on a maintenance program to keep the progress he hos mode.
-Joy & Emil B.
After suffering for 14 years with Trigeminal Neuralgia Dr. Ken French suggested K-Laser therapy. I began treatments immediately os suggested, followed his care plan and began to see Improvement within a few visits. The K-Laser treatments only take a few minutes, but the difference is truly amazing. I do follow up with maintenance treatments to help reduce any chances of flare ups. I om so thankful and grateful to hove Dr. Ken and his staff in my life as I am now living PAIN FREE!
-Karen H.
THE SECRET IS LIGHT ENERGY
K-Laser, also known as High Power laser Therapy, targets damaged tissue with specific wavelengths of light that have been found to interact with tissue and accelerate the healing process.
Much like photosynthesis in plants, light energy passes through the skin, into the cell membrane, initiating a process called photobiostimulation. This process enhances the body's natural regenerative functions,
as well as stimulating the release of endorphins and collagen. It may eventually even normalize damaged
or injured tissue.
The result? Accelerated wound healing, as well as reduced pain, stiffness, swelling, and spasms. As the
injured area returns to normal, function Is restored, so patients may take their life back and resume their
favorite hobbies and activities.
CONDITIONS TREATED WITH K-LASER
High power laser therapy can simulate all cell types, including soft tissue, ligaments, cartilage, and nerves.
Some conditions that have been shown to respond well to K-Laser include:
• Peripheral Neuropathy
• Trigeminal Neuralgia
• Plantar Fasciitis
• Back and Neck Pain
• Sciatic Pain
• Arthritis pain, Degenerative Discs/Joints
• carpal Tunnel Syndrome
• Knee Problems
• Tendinitis, Trigger Fingers
• Sprains and/or Strains
• Headaches. TMJ, Sinus Trouble
• Athletic Injuries
RESULTS MAY EVEN BE SEEN AFTER 1 TREATMENT
Many patients report pain relief In as little as one treatment, and most are able to resume normal daily activities with no pain and restricted movement after their therapy is completed.
Treatments are administered by a technician, using a handheld device the size of a flashlight. The laser is
placed directly over the Injured area for anywhere from 30 seconds to 9 minutes, depending on the size of the area being treated and the treatment plan.
Most patients report a warm, relaxing sensation. They generally experience no side effects or recovery period.
THE GOAL IS HEALING, NOT MERELY SYMPTOM RELIEF
For too long, medicine has focused on symptom relief rather than true healing. K-Laser offers an alternative, and It's a welcome change for athletes as well as patients interested in natural remedies.
Steve Donohue, Asst. Athletic Trainer of the N.Y. Yankees, reports, "We use the K-Laser both on acute and chronic conditions, such as bruises, contusions and tendinitis. We ice and then use the laser, and players seem to respond quicker. It's a hot item in the training room. The guys line up for it!"
More than 1200 studies conducted over 40 years worldwide have shown the powerful therapeutic benefits of high power laser therapy.
NOW AVAILABLE IN NAPLES
Are you a candidate for K-Laser therapy? For a limited time, Dr. French of Back in Motion is
offering a complementary evaluation for the month of January valued at $115.
"If you suffer from acute or chronic pain, laser therapy may give you your life back. You owe it to yourself to try the advanced treatment options that are now available. I truly believe K-Laser can make a difference. My hope is that everyone who needs it will at least give it a try" said Dr. Ken French.
To take advantage of this speccial offer, call 239-598-2244.
Tell the receptionist you'd like to come in for the "K-Laser Evaluation"
To make on appointment for K-Laser treatment call Back In Motion or 239-598-2244. Back In Motion Is
currently accepting new patients, and the staff is available to answer your questions on K-Laser therapy.
Dr. Ken French is a Certified Neuropathy Professional Member of the Neuropathy Treatment Centers of America.
BACK IN MOTION
NEUAOPATHY & LASER CENTER
Call for your consultation today!
239-598-2244