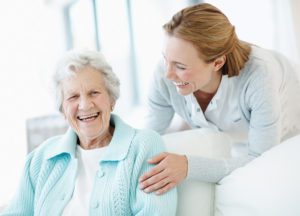 November has two very important awareness months for seniors, one is Family Caregivers Month, and the other is Alzheimer's Awareness. One of the greatest threats facing our population is the growing number of Alzheimer's and dementia cases per year. In less than 30 years the number of people diagnosed with this neurodegenerative disease will have tripled. Currently, over 5 million Americans have dementia, and by the year 2050, that number will have increased to 15 million. Alzheimer's is one of the primary forms of the disease known as dementia and with this diagnosis comes forgetfulness, agitation, frustration, social withdraw, difficulty with daily tasks and a decreased quality of life.
Far too many patients with dementia or Alzheimer's develop a sense of insecurity and embarrassment from knowing that they have the disease. Even with its extreme commonality, the stereotypes are still, unfortunately, shadowing this conditions diagnosis. Not only is it challenging for the patient who has dementia, but it's also just as challenging and upsetting for the caregiver and for the loved ones that see the changes in the personality of their family member.
Caregiver and Patient Options
This progressive disease can be difficult to accept by the entire families support system. Understandably, many caregivers want to be there for their loved one unselfishly. They may feel a sense of obligation and pride in taking care of them. Although this is a loving idea, it can become quite difficult to continue trying to care for your loved one your own. Expert medical attention is the best alternative to provide a higher quality of life for the dementia patient. That's where skillfully trained medical professionals can help. They can provide respite for the caregiver, allowing them time for themselves and dedicated care for the patient.
By knowing that their loved one is well cared for by professionals that completely understand the disease and the correct steps to support them, caregivers can take comfort in knowing that professionals are there to walk with them and to help them along this journey.
Not Ready to Make a Permanent Decision? Perhaps you Need a Break
The staff and administration at the Crossings at Hancock Creek in Fort Myers understand that making the decision to transition a loved one into an assisted living facility is overwhelming for many people. It can be confusing to put your trust in a facility and also it can be incredibly challenging to make a permanent decision. That's why the Crossings offers caregivers a respite opportunity that is temporary. Their respite stay provides a 30 day, furnished room, total care at a daily rate so that you can get a break and evaluate the benefits of assisted living and memory care at the Crossings. This unique opportunity offers peace of mind and well-needed rest to the caregiver, and time to reflect on what is best for you and your loved one.
The Crossings at Hancock Creek is an assisted living and memory care community that has offered a variety of services at many different levels of assistance since 2016. Their community preserves the patients' lifestyles and dignity with innovative care. They provide social and recreational programs and much more.
The Crossings at Hancock Creek offers medication management, on-site pharmacy service, quality care plans administered by a licensed nurse and a 24-hour personal care staff to ensure premier care for every patient. They also provide physical, occupational and speech therapy through several agencies. They have the compassion, experience, expertise, skills, and programs to provide the quality care that results in the best possible quality of life.
Please give them a call at (239) 217-5900 to schedule a tour to see for yourself just what makes The Crossings at Hancock Creek so special.
The Crossings at Hancock Creek
3501 Hancock Bridge Parkway
Fort Myers, Florida 33903
239-217-5900
saberhealth.com