Dr. Jamie E. Weaver – Board-Certified Foot and Ankle Surgeon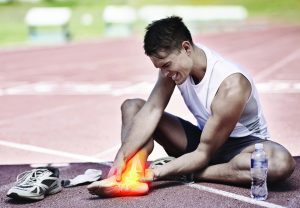 There are two main calf muscles, the gastrocnemius, and the soleus; both of these large muscles are connected to the Achilles tendon.  The Achilles is the largest tendon in the body and is made up of fibrous tissue that resembles a rope like substance.  Along with the calf muscles, the Achilles tendon is connected to the heel bone and provides support and flexion when you walk, run, stand, and jump.  Stressors like quickly moving from side to side, and by making quick, ballistic movements can weaken this strong, stable tendon.
Excessive wear and tear from exercise or abnormal movements can greatly interfere with the stabilization of the Achilles tendon, making it extremely vulnerable to injury.  A damaged tendon will have tiny tears that begin to occur and can cause discomfort, redness, and a sensation of warmth.  Scar tissue may start to accumulate on the tendon, as it tries to heal itself naturally.  This scar tissue will make the tendon even more susceptible to injury or rupture because it stiffens the Achilles tendon, and the intermittent tearing and separation of the tendon fibers may completely rip away from the heel bone and possibly the calf muscles too. This rupturing will cause extreme pain, and the tendon will no longer be able to perform its normal function.
Achilles tendonitis is more common in men than women, and the typical age group that is affected is between the ages of 30-50. Some other risk factors include race, genetics, medical conditions, musculoskeletal disease, improper ankle and foot alignment (pronation/hyper-pronation), obesity, sports injuries, excessive exercise, medications, and smoking.
If you feel any tightness, pain or inflammation in your Achilles, you should consult with your podiatrist immediately to prevent any further injury from occurring.
The typical treatment options for tendonitis are the following:
• Rest
• Reducing activity
• Ice
• Corticosteroid injections
• Wearing a stabilizing brace
• Compression
• Physical therapy
• Stretching exercises
With the proper treatment, you will typically see a full recovery in approximately four to six weeks.  This proactive treatment will help to prevent any further complications and injury.  If left untreated, there is a high risk of rupture, which takes four to six months to heal and very often has recurrence of multiple ruptures over time.
Jamie E. Weaver, DPM
Board-Certified and Fellowship-Trained
Foot and Ankle Surgeon
Dr. Jamie Weaver provides comprehensive orthopaedic care as a podiatric specialist in Foot and Ankle Surgery. Along with all podiatric procedures, she is an expert in treating Achilles tendonitis. Being a firm believer in patient education, Dr. Weaver prides herself in taking the time to educate her patients on diagnosis, treatment plans, and options, as well as patient expectations. Dr. Weaver's motto is; Well-informed patients equal positive and predictable outcomes.
Dr. Jamie Weaver completed her residency training program at San Francisco Bay Area Foot and Ankle Program affiliated with Kaiser Permanente and University California San Francisco. Starting her private practice career in Southwest Florida, Dr. Weaver has distinguished herself as a physician offering complete patient care with state of the art treatment modalities and surgical techniques. Dr. Weaver prides herself in keeping her patients' pain-free and active.
To find out more, please visit Jointreplacementinstitute.com , or to schedule your appointment, please call (239) 261-2663
1250 Pine Ridge,
Suite #203,
Naples, FL 34108
(239) 261-2663