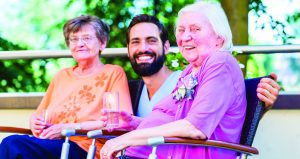 A study published in the Journal of the American Geriatrics Society demonstrates a strong correlation between unmet homecare needs among dementia patients and increased mortality (Gaugler J, Kane R, et al. Unmet care needs and key outcomes in dementia. Journal of the American Geriatrics Society. 53 (12): 20982105.). Gaugler, et al. tracked 5,831 dementia patients over 18 months. They interviewed caregivers about needs for assistance with specific activities of daily living (ADLs) and whether those needs were being met. Researchers asked about eating, bathing, toileting, etc.
• People who need more assistance with just one ADL are 12% more likely to be placed in a facility.
• People who need more assistance with two ADLs are 77% more likely to be placed in a facility.
• People who need more assistance with two or more ADLs have a 37% higher mortality rate.
• Unmet ADL needs were a better predictor of mortality and facility placement than direct tests of mental and functional abilities.
Various reports over the past three decades have connected unmet ADL needs among older adults with medication non-adherence, injuries, falls, dehydration, discomfort, distress, and going hungry.
Considering the strong connection between unmet home care needs, loss of independence, and increased mortality, it may be appropriate for family members and physicians to ask specific questions about life in home. Questions about whether the person feels safe getting out of the shower alone, whether they cook less because it is too difficult, and whether they have trouble getting to the pharmacy or grocery store may reveal predictive unmet ADL needs.
When you are looking for reliable, qualified home care, please call McKenney Home Care. This agency delivers in-home assistance with the ADLs tracked in this research and more.
McKenney Home Care, in Naples, FL will be hosting a Lewy Body Dementia Support Group, starting in January 2018. This will be an ongoing support group approved by the Lewy Body Dementia Association in Atlanta, and in affiliation with the Parkinson's Assocation of SWFL, Alzheimer's Support Network, and the Alzheimer's Association.
McKenney Home Care provides exceptional in-home health services and client-centered care. With a passion for maximizing the quality of life of their clients and their families, they are driven to ensure social engagement and specialty services during all stages of life.
For Individuals with neurodegenerative disorders, McKenney Home Care delivers enriched specialized training for its caregivers working with Dementia Patients. In addition to specialized videos and manuals, McKenney educates the caregivers through the use of the Virtual Alzheimer's App. This virtual reality experience helps caregivers understand the feelings and experience of those suffering from Alzheimer's and other forms of Dementia.
Along with their medical expertise, McKenney Home Care is a certified Music & Memory Agency. Providing help for Dementia Patients; this specialized music therapy program is highly personalized and has been shown to reduce the need for anti-anxiety and antipsychotic drugs by up to 50%, while brining joy to the lives of patients who have Dementia.
If you or someone you know would like more information about McKenney Home Care or the LBD Support Group, please call McKenney Home Care at 239-325-2273, or visit mckenneyhomecare.com.
CALL US TODAY!
239-325-CARE (2273)
9655 Tamiami Trail North #201
Naples, FL 34108