By Dr. Marc Havig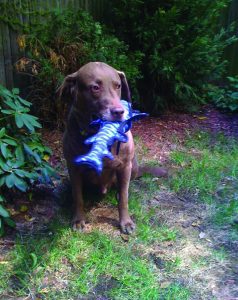 A kind heart. A youthful exuberance. A never-ending inquisitiveness. A spirited soul. These were just a few characteristics our beloved Chesapeake Bay Retriever, Jack, possessed. Jack – whom my wife, Dr. Ashley Ayoob, and I affectionately called 'Baboo' – was a devoted companion for more than 12 years. Forever young, he was a puppy at heart who ran circles around his younger four-legged buddies. He led a brave fight against a recurring oral melanoma, which ended in May of 2014.
To honor him and his memory, we created a fund to provide financial assistance for pets with an injury or illness requiring medical care. Therefore, we are pleased to formally introduce Project Baboo, a 501(3)(c) non-profit corporation whose gifts we use directly to provide specialty veterinary care for ill and injured companion animals.
Project Baboo provides financial assistance through grants to families with a demonstrated commitment to the human-animal bond who could not otherwise afford the full cost of medical care to treat their beloved pet. Project Baboo secures donations from the general public. Then, these donations are gifted to families or individuals in need.
Recipients must make a financial commitment of at least 15 percent toward the medical care of their pet, paying a portion of the bill upfront. Further, they must prove financial need as defined by their Care Credit application, i.e., a financing group that provides veterinary healthcare credit cards.
Project Baboo funds treatment for patients whose conditions have a promising prognosis. To make the largest financial impact, both the Animal Specialty Hospital of Florida and the treating veterinarian also make donations to the recipients' final bill.
To learn more about Project Baboo or to make a donation, please call the Animal Specialty Hospital of Florida at 239-263-0480 and speak with Reagan Terry, marketing manager. Thank you in advance for your support and generosity.
Just like you, we're touched by the unique comradery our adored pets give us. They are family members, and even when they cross the rainbow bridge, they leave an indelible imprint on our lives. Establishing Project Baboo is the least we could do to honor Jack, and we are pleased to share his giving spirit with others.
Happy holidays. May the season bestow its very finest upon you and your family – including your furry friends.
Project Baboo
10130 Market Street, Naples, FL
239.263.0480 | www.ASHFL.com
Dr. Marc Havig, Diplomate, American College of Veterinary Surgeons, is a surgeon and owner at Animal Specialty Hospital of Florida. He is the Vice President of the Collier County Veterinary Society, and he received his Canine Rehabilitation Certification in 2010. Dr. Havig specializes in small animal surgery and has a special interest in canine sports-related injuries.