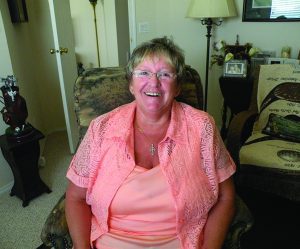 At 240 pounds and on medication for diabetes, high cholesterol and high blood pressure, Lena Cooper's health and self-esteem were seriously impaired.
"I didn't like myself very well; I was miserable," said Cooper, 67, who retired to Florida 12 years ago with her husband after a 30-year career at General Motors in Michigan.
Finally, in 2015, the Parrish resident had enough and consulted with Joseph Chebli, M.D., a Center of Excellence metabolic surgeon who serves on Gov. Rick Scott's Diabetes Advisory Council. Dr. Chebli performs life-changing surgery for diabetes patients at Venice Regional Bayfront Health.
"Lena was an excellent candidate for metabolic surgery, and I am thrilled that she was able to cease all medications, including diabetes medicines, immediately after surgery," Chebli said. "We make very small incisions to conduct the surgery laparoscopically. Recovery time is generally rapid, and hospital stays are usually short."
For the first time, metabolic (sometimes called bariatric) surgery is being recommended specifically as diabetes treatment, rather than as obesity treatment with a side benefit. The recommendation from a 2016 study could help more diabetes patients receive life-changing treatment, even if they are only mildly obese.
The American Diabetes Association, the International Diabetes Federation and 43 other health groups have endorsed recommendations from the study published in the June 2016 issue of the journal Diabetes Care. Metabolic surgery has clearly been demonstrated to be superior to medical management of Type 2 diabetes in 11 randomized clinical trials, the study reported.
According to the American Diabetes Association, Type 2 diabetes affects 30 million people in the United States. Florida is second in the nation in diabetes cost at $18.9 billion. The total cost of diabetes in the United States is $245 billion, a 41 percent increase in the last five years. The association reports that one in three Medicare dollars is spent on the care of Type 2 diabetes.
Venice Regional Bayfront Health is the only Center of Excellence in bariatric surgery in Manatee, Sarasota and Charlotte counties, and one of only 11 in the country that holds dual Center of Excellence accreditations: one by Surgical Review Corporation and the other by the Metabolic and Bariatric Surgery Accreditation and Quality Improvement Program.
Venice Regional also conducts a support group for patients who have undergone metabolic surgery to help them continue to manage their metabolism long-term.
"I spent more than half of my life seriously overweight," Cooper said. "Thanks to Dr. Chebli, I lost 75 pounds and have been able to change my eating habits completely.  I can even lift furniture now when I volunteer at the church thrift store. I feel so much better about myself. This surgery was a godsend."
For more information on metabolic surgery for diabetes, please visit www.venicembs.com or call (941) 209-4646.