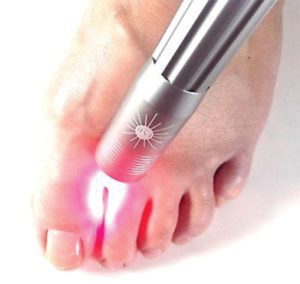 Neuropathy is typically associated with diabetes, as it's common for nerve damage to have occurred in individuals with high glucose storage, but neuropathy can also be attributed to chemotherapy, injuries, autoimmune diseases, compressed spinal vertebrae, cholesterol medication side effects, a build-up of toxins, and vascular disease.
In the United States alone, neuropathy affects nearly 20 million people. The Latin word literally means nerve disorder. This nerve damage happens because the small blood vessels, which supply blood and nutrients to the nerves becomes impaired. When the nerves are no longer fed nutrients, they either die, or their signals to the brain become restricted and ineffective.
SYMPTOMS OF NEUROPATHY MOST OFTEN
INCLUDE THE FOLLOWING SENSATIONS:
• Tingling
• Numbness
• Burning
• Sensations of cold/hot
• Stumbling
• Impingements
• Electrical vibrating sensations
• Falling
• Lack of strength
• Decreased range-of-motion
• Muscle cramps
• Joint inflammation
TREATMENT
The most common treatment for nerve damage is to mask it with prescription medications, but there is a way to actually "treat" the symptoms and improve the nerve function in the body. Recently, PRP Cold Laser Therapy has been effectively proven to treat and reduce neuropathic pain.
This alternative treatment option is helping countless patients to be free from pain and also to regenerate tissue and nerve growth. With non-surgical treatment through regenerative medicine, PRP Cold laser therapy helps patients recover safely without addictive drugs.
PRP
Naturally found in your blood, platelets are a rich source of proteins called growth factors, which promote healing. Platelet-rich plasma (PRP) contains a higher concentration of platelets than the amount normally found in your blood. To create PRP, your doctor draws a sample of your blood and places it in a centrifuge, which separates out the platelets. These concentrated platelets are recombined with your blood plasma to make PRP. Platelet Rich Plasma (PRP) is taken from the patient's body via an in-office, noninvasive technique. The platelet rich plasma from the blood is reinjected into the patient's problem area. The reinjected PRP
Platelet-rich plasma (PRP) uses growth factors naturally found in your blood platelets to promote healing and trigger new tissue growth.
PRP is made on-site from your blood. Your doctor draws a blood sample and processes it in a centrifuge that separates platelets from other blood components. This concentrated sample of platelets is used in the cold laser therapy technique.
PRP COLD LASER THERAPY
Future medical breakthroughs will rely less on traditional drug-based therapies but to a greater extent on harnessing the body's ability to heal itself. The human body has an incredible ability to heal. New technology now is available to stimulate your body's ability to heal injuries that otherwise would not heal or heal much slower. Laser activated Platelet Rich Plasma commonly referred to as "PRP', is a non-
operative, permanent solution for conditions such as arthritis and ligament/tendon sprains, tears and neuropathy. PRP therapy is a concentration of platelets that are injected into the damaged ligaments, tendons, joints or wounds. Next 6-10 painless applications of our specifically designed near infrared laser protocol are performed to promote tissue repair and accelerate healing. The specific wavelength of our laser has been fine tuned to accelerate healing. Laser activated PRP therapy I have found very effective healing a variety of ailments.
PRP COLD LASER THERAPY BENEFITS
• Arthritis, knee, shoulder, ankles, feet and hands
• Peripheral neuropathy
• Tendon injuries
• Plantar fasciitis (heel spurs)
• Soft tissue injuries
• Diabetic wounds
OUTCOMES
The benefit to PRP therapy is that unlike other treatments it has a sustained outcome and is categorized as a permanent fix. The timeframe for experiencing results is dependent upon the area of injury and the extent of the injury. On average, most patients start to see signs of improvement in the form of reduced pain or increased function within four to six weeks. Continuing a well-designed course of laser therapy and avoidance of aggressive physical activity or overloading the injected tissues is advised in the weeks that follow the injections. This is done to allow the tissues to heal best.
To find out more, please contact Medic Infusion at 941-613-1919 today.
Accepting New Patients
Dr. Tetyana Metyk
Medic Infusion
3191 Harbor Blvd D, Port Charlotte, FL 33952
(941) 613-1919