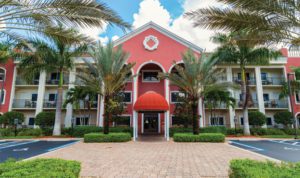 Aging has a lot of negative connotations that coincide with the term both physically and mentally. Most of us are aware of the importance of keeping our bodies and minds in the best condition we possibly can, but sometimes, we require assistance. If you've been contemplating the idea of moving into an assisted living facility, your choices are countless and may be somewhat overwhelming, but not all facilities are created equal.
Deciding to transition into an assisted living facility can be daunting. The primary concern for most individuals is the apprehension of not knowing whether or not it will feel like home.
With just one visit to Tuscany Villa of Naples, they will put your uneasiness at bay. From the kind staff, exclusive amenities and home-like environment, each detail is significantly better than you can even imagine, and that's just the beginning. Tuscany Villa is conveniently located minutes from the beach and downtown Naples.
Tuscany Villa takes full pride in providing the most elite services and accommodations for their residents. With a state-of-the-art theatre, care, beauty salon, restaurant-style dining, peaceful surroundings, and engaging social activities, they have not forgotten one detail in gratifying your comfort and care.
Lifestyle360 program
Tuscany Villa offers a holistic approach to active community living that focuses on five dimensions of wellness: intellectual, social, physical, emotional, and spiritual. Keeping adults healthy and engaged is the key to aging well.
Along with unique services like being pet-friendly and inclusive personal laundry services, the five-star amenities include the following distinctive conveniences:
• Internet and cable TV included
• Beauty salon/barbershop
• Computer lounge
• Housekeeping services included
• Library
• Scheduled local transportation included
• Shopping Trips
• Beverages & snacks available
• Billiards room
• Card and game room
• Covered patio
• Exercise classes
• Game/Movie nights
• Happy hour
• In-house doctor visits
• Near cultural venues
• Near hospital or medical center
• In-house physical therapy/rehab
• In-house religious services
• Kitchenettes
• Low sugar/salt options
• Men's group
• Nurse on premises – 24 hours
• Parking on premises
• Pool
• Private dining room available for resident/family use
• Regular wellness checks
• Resident clubs and committee
• Restaurant-style dining
• Social outings
• Special Diets
• Visitor sign-in
In addition to the exceptional amenities, Tuscany Villa of Naples is also one of the most highly sought after facilities, due to their exclusive take on aging. They respect their resident's privacy, while precisely organizing the assistance that individuals may need like personal care, shopping, transportation, and other daily activities that you or your loved one may need help with. While you become part of the family, Tuscany Villa of Naples will help you attain your best quality of life within a warm community environment.
2017 AHCA/NCAL Bronze Award Recipient.  Commitment to improving residents' lives and quality of care.
Contact Tuscany Villa of Naples today! For more information and to schedule a private tour, please call them at (239) 775-2233.