By Dr. David S. Zamikoff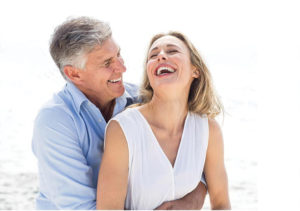 As women age, they tend to produce fewer and fewer hormones each year after the age of thirty. Females are predisposed to experience an imbalance of estrogen, progesterone, and testosterone, which can lead to heart disease, hot flashes, night sweats, anxiety, depression, brain fog, weight gain, loss of muscle, irritability and bone deficiency. Bone loss in women can exacerbate stress fractures caused by osteopenia or osteoporosis. Hormonal levels can be adjusted through bio-identical hormone therapy, which alleviates or in many cases, eliminates the associated symptoms and life fluctuations surrounding hormones. There are even studies now that suggest bio-identical hormones can help reduce the risk of Alzheimer's and dementia.
Why Testosterone?
Females need a steady level of testosterone and estrogen in their bodies for overall health and well-being on many levels. However, a common misconception is that women need high levels of flowing estrogen. This is not the case. Consequently, female bodies need circulating testosterone, which enables the body to produce and regulate how much estrogen is necessary. In short, testosterone naturally regulates estrogen levels within the cellular structure.
Many women are skeptical of testosterone therapy for menopausal symptoms because they believe it's just for men. But testosterone is vital for females, and your physician will regulate the dosage to custom-suit your specific needs. It is essential for women to have appropriate testosterone levels to naturally control their estrogen because as we age, our testosterone levels are continuously decreasing.
Low Testosterone Can Lead To:
• Heart Disease
• Metabolic Syndrome
• Depression
• Diabetes
• Obesity
• Cognitive Decline
• Lack of libido
According to BioTE Medical, their bioidentical hormone replacement therapy, also known as BHRT therapy, may make heart disease more manageable in women. Learn more about heart disease, the symptoms and signs of it, the causes of heart disease and how women may be able to live their best lives with hormone therapy from BioTE Medical today. You can also learn how to get started with hormone therapy for women from BioTE through one of our thousands of Certified BioTE Medical Providers.1
What is Heart Disease?
There are eight common types of heart disease that present in men and women. These types of heart disease include high blood pressure, coronary artery disease, cardiac arrest, congestive heart failure, arrhythmia, peripheral artery disease, stroke and congenital heart disease. Most people do not associate high blood pressure with heart disease, but it is the most common form. It comes from the force of blood pumping through veins causing undue pressure on veins, creating a high-stress environment that accelerates aging of the veins. People older than 40 are most commonly diagnosed with high blood pressure. Often high blood pressure has no symptoms, but severe high blood pressure can result in stroke. Eating less salt and exercising regularly are ways that men and women may be able to lower their blood pressure without medical intervention. Stress management, quitting smoking and diuretics may also be able to help lower blood pressure.1
What are the Hormonal Causes of Heart Disease?
One of the causes of heart disease may be a decline in estrogen after aging. Studies have shown, estrogen has a protective effect on the coronary system, and the loss of it can be difficult for the body to adjust to. Along with estrogen decreasing, cholesterol also tends to increase, making things more difficult for cardiac health. If your estrogen is out of balance, BioTE Medical's hormone therapy is a remedy that will potentially help restore your hormonal balance and relieve your symptoms.1
How Can Hormone Pellets Help with Heart Disease Therapy for Women?
Finding a healthcare professional that provides effective therapy for women can be tough, but your search ends with BioTE Medical. By supplementing missing estrogen, heart disease hormone therapy pellets may be able to reduce the risk of heart disease as well as the severity of heart disease, making them a potent heart disease remedy. Our heart disease therapy features hormone pellets that have the advantage of offering a consistent administration of the hormones, which keeps patients from experiencing the roller coaster effects of pills and creams. When you're searching for heart disease therapy for women, you don't want to deal with ups and downs, so trust the heart disease hormone therapy options from BioTE Medical to provide you with a consistent, reliable heart disease remedy.1
Reference:
1. Biote Medical, Balancing Hormones for Heart Disease, 2018,
https://www.biotemedical.com/women-hormone-imbalance/
pellet-therapy-benefits/heart-disease-therapy/
Natural Healing Arts Medical Center
Dr. David Zamikoff and Natural Healing Arts Medical Center – a professional Bradenton Chiropractic and Medical office. In practice as well as online, Bradenton Florida 34209 chiropractor Dr. Zamikoff strives for excellence through superior patient treatment, education and satisfaction.
To schedule your consultation, please call
(941) 761-4994 or visit myofficeinfo.com.
Natural Healing Arts Medical Center
941.761.4994
www.NaturalHealingArtsMedical.com
2215 59th Street West, Bradenton, FL 34209