By Alex Anderson, Senior Associate Pastor at Bayside Community Church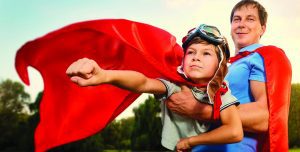 I believe the reason God uses me is because I don't know of anyone who needs God's help and love more than I do. There are times I feel helpless and useless. I cannot depend solely upon my abilities nor upon my strength. So because of my weakness, I reach out to Him many times every day in prayer.
I have a superpower…
And I would have to say it is prayer. I pray like my life depends upon it…because it does. When I pray I'm speaking God's love language. He understands how weak and needy I am. He understands how difficult life can be for me.
Prayer is my way of becoming one with Christ. Prayer is loving Christ. It was even His idea. His disciples asked Him to teach them how to pray. So Jesus gave them the most famous prayer ever…The Lord's Prayer…but only to be a guide for our heart to connect with Our Father in Heaven.
Prayer is not about many words spoken in a perfect manner. Prayer is about desire. It is about enlarging our hearts so we may receive more of the love of God that overcomes our weakness and gives us the strength to love without getting tired.
Pray until you love to pray.
Pray often during the day, as many times as you feel unloved, uninvited, unappreciated, unapproved and useless. Pray until these things dissolve into the love and joy that Christ brings. When prayer becomes your superpower, your heart will be so enlarged that Christ will be at home there. You and He will become friends…everyday talking about what's in His heart and what's in yours.
Time with Jesus through your prayers will keep you from being discouraged and giving up. I know no other way to love others tirelessly. The moments of prayer throughout the day become small drops of oil in the lamp of our lives. Our lamps will burn with the love for others that brings them to Jesus.
Let your weakness be the key to your strength.
Jesus said to the Apostle Paul, "My grace is sufficient for you; for my strength is made perfect in weakness." And the Apostle's response was, "That makes me glad then. I would rather boast about my weakness so that Christ's power may dwell in me."
Most of us (including yours truly) don't like the pain of transparency when it comes to our weakness and short comings. We don't mind talking about what we have accomplished or what we know, but our miserable little stupid attitudes and mistakes…that stuff is painful for others to see in us.
Not so with Jesus Christ. The useless and miserable parts of our lives are the very things He came to help us walk out of with a smile on our faces. So tell Jesus in prayer about the crap you have done and are maybe in now. Hey, guess what…He knows anyhow so why not start up a conversation with Him about it.
You don't have to be The Apostle Paul.
When you pray Jesus will say to you…"I can deal with that and I'll go one better… I'll make you stronger than that."
Something will happen when you talk to Jesus all through out the day and I know this to be true because it has happened to me.
You will begin to believe more in His love for you than in your weakness.
That's the secret little thing He does that changes everything about your life.
Enough talking on my part…now it's your turn. It's time for you to talk to Jesus. Whether it's for the first time or the first time in a long time.
Either way, it's time.
Love Jesus generously. Trust Him without looking back and without fear. Give yourself completely to him. Don't hold back anything.
And remember…God's Spirit is not way out there in the Heavens…He's closer than you think…just under your skin. Believe that He is the creator of your life…and He is not done with it.
But as always, it's your choice. He's waiting patiently.
To your spiritual health,
Alex E. Anderson
Senior Associate Pastor at
Bayside Community Church
Author, Dangerous Prayers
alex.anderson@alexanderson.org
www.dangerous-prayers.com
mybayside.church