Nicolas Perez, M.D. – Korunda Pain Management Center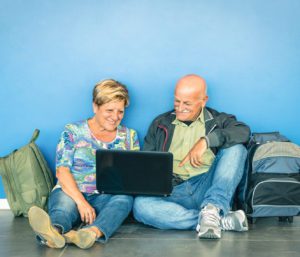 When we think of taking a vacation, we typically visualize relaxation, and we look forward to a peaceful experience.
After all, vacations are a time to get away from our stress-filled lives and visit family, friends, or enjoy quiet time on the beach basking in the sun. In reality, these things hold true, but there is one blinding caveat that we all seem to gloss over—traveling! Whether you're driving, taking a train or plane, traveling can be hard on the body.
Hauling luggage, parking the car at the airport, waiting in the security line, worrying about catching our connecting flights, or traveling in the car for long distance in heavy traffic are all unpleasant experiences that we encounter while trying to get to our favorite destination.
All of these additional activities can cause many people to suffer from aches and pains in their joints. With the extra wear and tear on our bodies, increasing pain and muscle stiffness can leave lingering effects, causing migraines, muscle soreness, backaches, sciatica and the list goes on and on. For those that suffer from arthritis or other musculoskeletal issues, their discomfort may be intensified and in some cases, permanent unless they seek help from a medical professional that specializes in pain.
Korunda Pain Management Center is a state of the art facility that specializes in the treatment of acute and chronic pain management. They provide the utmost quality care for their patients and provide for their pain management needs.
Nicolas Perez, M.D.
Dr. Perez uses a holistic and comprehensive approach to diagnose and treat painful conditions. With his background in physical medicine and rehabilitation, he performs a detailed physical exam and image review to get to the root of the issue. His treatment goal is to reduce pain and help his patients achieve maximal restoration of their functional status.
Utilizing ultrasound or fluoroscopic guidance, Dr. Perez treats a broad spectrum of pain syndromes including but not limited to neck and back pain, sciatica, herniated discs, arthritis, sacroiliac pain, joint pain, myofascial pain, neuropathy, complex regional pain syndrome, cancer-related pain, migraines, and spasticity. Dr. Perez has a strong focus on sports and musculoskeletal injuries.
Commonly performed procedures include epidural steroid injections, facet joint blocks, radiofrequency ablation, joint injections (shoulder, hip, knee, etc.), peripheral nerve blocks, spinal cord stimulation, trigger point injections, regenerative medicine, and many more.
At Korunda Pain Relief, Their goal is to strive to deliver the highest quality of comprehensive care for those who are suffering from acute and chronic pain. They have many alternatives to help you with your personalized pain management needs. Please visit their website at www.korundapmc.com or call them at (239) 591-2803.
Korunda Pain Management Center
239-591-2803
14131 Metropolis Ave. Ste 103
Ft. Myers, FL 33912