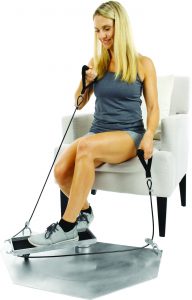 The World Health Organization (WHO) states that 15 million people suffer stroke worldwide each year. Of these, 5 million die and another 5 million are permanently disabled.
According to the National Stroke Association, "Foot drop is common after a stroke. It is a weakness or paralysis that
limits your ability to raise the front part of your foot. The foot or ankle drops down when the leg is lifted to take a step. If you have foot drop you may trip and fall if your foot and ankle are not supported by a brace at all times.
Foot drop can result when nerves are damaged during a stroke. The muscles are rarely damaged, but become weak because of lack of use following a stroke. Partial or complete recovery is possible with the help of rehabilitative therapy. Physical therapy is central in strengthening muscles and joints.
Physical therapy and ankle-foot orthotics are two of the three main treatments for foot drop; electrical stimulation is the third. With neuromuscular electrical stimulation (NMES), your leg muscle is directly stimulated. This helps your nerves fire, making your muscles contract. Over time, the idea is that your leg muscles will be retrained."
Stroke Master Products has created the ideal therapeutic exercise equipment for use in professional physical therapy and for at home use as well.
Relieves Stiffness in Drop Foot and
Arthritic Ankles
The Stroke Master system provides controlled movement of the ankle, strengthening it and increasing flexibility, which may relieve stiffness and pain.
Sitting or Standing Capability
The Stroke Master is designed to be used while seated or when standing as strength and ability allow.
Drop Foot Improvement
The Stroke Master retrains the ankle ligaments and muscles to improve foot drop and aids in regaining muscle memory following a stroke or surgery.
• Aids in rehabilitation following a stroke or surgery
• Increase mobility, strength, and flexibility in the hip, knee, and ankle
• Safely use while seated or standing
• Durable construction with nonslip platforms
• Versatile twelve-piece set
• 60 Day Guarantee
Stroke Master Products bend the ankle joint at all angles of deflection, while building strength and flexibility.
To find out more, please visit www.strokemasterproducts.com
For product sales, please contact:
Mike McDuffie – 239-961-2597
Vive Health at 800-487-3808, or visit www.vivehealth.com.
Other Well-known companies that carry Stroke Master Products
ATI Physical Therapy
Family Foot and Leg Center