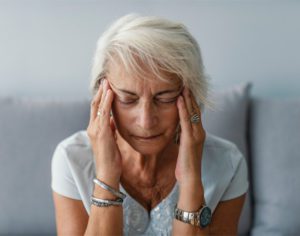 Stress is something we all experience in our everyday lives, in our own unique ways. But, when it becomes constant and difficult to manage, it can impact our mental health negatively. In order to fully understand how we are being effected by stress, we need to break it down a little further.
There are two major types of stress: Good stress and bad stress. Good stress can be seen as beneficial and motivating, helping us perform under pressure, or stay safe from danger. On the other hand, bad stress are those constant, severe stressors that we cannot seem to handle, causing anxiety, depression and other health problems. How can we change bad stress to good stress? – our perception.
Stress is a perceived disconnect between a situation and our resources/abilities to deal with that situation. In other words, stress is a (real or imagined) threat that tugs on our resources. If we perceive something as stressful or threatening, our nervous system releases hormones into the body such as adrenaline and cortisol. These hormones change our behavior, mental experience and physical functioning in a variety of different ways.
The autonomic nervous system often does a poor job of distinguishing between daily stressors and life threatening events, which is why our perception plays such a vital role. Without our perceptions, the autonomic nervous system may assess arguments, traffic jams, and monthly bills as if you're facing a life or death situation. When our body experiences this repeatedly in our daily lives it starts to take a tool on us physically, such as increased blood pressure, a suppressed immune system,
increased risk of heart attack/stroke, speeds up the aging process and leaves you more vulnerable to mental and emotional problems.
The good news is, since stress is a perception, that means we can do something about it. We can train ourselves to change our perception, or how we are viewing the situation at hand so we can focus more on good stress rather than bad stress. This will allow our bodies to respond in a way that is more beneficial to our overall functioning and well-being. Individual Therapy utilizing Cognitive Behavioral Techniques is an excellent way to shift perception. Want to start shifting your perception now?
Here are 7 ways to shift your perception of stress:
1. Accept that stress is part of life.
2. Keep problems in proper perspective.
3. Take care of your physical health.
4. Choose healthy coping skills.
5. Balance social activity with solitude.
6. Acknowledge your choices.
7. Look for the silver lining.
Lotus Living Therapy
239-360-2131
www.lotuslivingtherapy.com
501 N Goodlette Frank Rd. Ste C210
Naples, FL 34102
As a Licensed Clinical Social Worker (LCSW), my passion is helping people live their life to the fullest! Challenges, transitions and stressors are inevitable in this world, but I strive to use my education and experience to help adolescents, young and older adults live joy-filled lives, regardless of circumstances.
With a diverse background, I am well versed in a wide range of areas of clinical interest; including substance abuse, mood disorders, self-esteem/
body imagine, anger management, grief and loss. This versatility is at the core of my work ethic as a Social Worker; helping as many people as I can with whatever obstacles life is putting in front of them.
My approach to clinical work is holistic, solution-focused and direct. I believe in addressing all aspects of a person's life – physical, spiritual, environmental, as well as psychological to enhance positive outcomes.
My goal is to always work with my clients to identify the tools and insights that enable them to live abundantly outside the therapy room. I am committed to employing the most effective treatment strategies to best support my clients so they can create healthier lives each and every day.
– Bachelor of Science University of Tampa, Tampa, FL (2012)
-Master of Social Work (MSW) Youngstown State University, Youngstown, OH (2015)
– Licensed Clinical Social Worker Florida
Therapeutic Techniques
-Cognitive Behavioral Therapy
-Solution Focused Therapy
-Strengths Perspective
-Mindfulness Based Cognitive Therapy