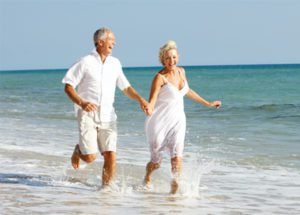 At the Orthopedic Center of Florida (OCF), their team of skilled orthopedic specialists strive to meet all of your orthopedic, pain management, podiatry, and rehabilitation needs. They are committed to providing the latest evidence-based, patient-centered care in orthopedic and sports medicine services. At Orthopedic Center of Florida, you will find an array of orthopedic services such as Digital X-Rays, Diagnostic Testing, Robotic Laser Therapy, EMG/NCV, and more.
Their highly skilled team of specialists are focused on service, excellence, and patient satisfaction. The physicians at OCF work hard to get you active again by ensuring that a patient's path to recovery continues long after their care is complete.
OCF's treatment goals are joint preservation, quick recovery and safeguarding patients from permanent injuries. They specialize in arthroscopic, minimally invasive, and surgical procedures of the shoulder, knee, hip, hand, wrist, elbow, foot, ankle, and pain management. They also treat a vast array of general orthopedic conditions such as carpal tunnel syndrome, trigger finger, fractures, cysts, tendonitis, and arthritis, among others.
At OCF, they take a multidisciplinary approach to sports medicine and orthopedic surgery, putting the patient first and providing a full explanation of the injury and all possible treatment options. Their commitment to treating each patient with respect and great care both medically and emotionally sets new standards in orthopedics. Building loyal interactions with all of their patients are just as rewarding to the OCF physicians, as their dedication to highly skilled treatment options.
Getting you out of PAIN—
George Soliman, M.D.
OCF recently has added a remarkable pain medicine physician to their team. Dr. Soliman is Board Certified by the American Board of Anesthesiology in Anesthesia and is Fellowship Trained in Interventional Pain Medicine.
He is quickly establishing a reputation for working with his patients first and foremost to improve their quality of life. This is accomplished by decreasing their pain and returning control to the patients in regards to their healthcare by working together as a team to decrease pain, regain function, and overall improve their quality of life. He accomplishes these goals by utilizing his advanced training to select a safe and effective approach tailored to each patients individual needs.
He treats the following conditions:
. Back & Neck pain
. Sciatica
. Herniated disc
. Spinal stenosis
. Joint pain
. Sacroiliac joint pain
. Leg & Arm tingling and numbness
. RSD/CRPS
. Whiplash Pain Syndrome
. Auto injuries
. Shingles pain
. Spine Fractures
. Work and Auto Injuries
Dr. Soliman is Board Certified in Anesthesiology and Fellowship trained in Interventional Pain Management and Minimally Invasive Spinal Procedures. He specializes in the diagnosis and treatment of both minimally invasive surgical and non-surgical treatment of painful conditions of the neck, back, arms, and legs. In addition, Dr. Soliman has experience with difficult to diagnose pain disorders and a wide variety of chronic and acute pain conditions.
Dr. Soliman was born and raised in Columbus, Ohio and completed his undergraduate training at The Ohio State University and Medical education at the American University of the Caribbean. He has a Bachelor of Science degree in Molecular Genetics.
Upon finishing medical school, Dr. Soliman completed his Anesthesiology Residency at The Mayo Clinic in Jacksonville, Florida. He completed his training with distinction and multiple conference presentations and publications. He worked with some of the pre-eminent physicians in the field of Anesthesia and Pain Management and then pursued an Interventional Pain Management Fellowship at The Emory University School of Medicine in Atlanta, Georgia.
His professional skills include spinal injection procedures consisting of epidural steroid injections, radiofrequency ablation and discography, vertebroplasty/kyphoplasty, spinal cord stimulation, minimally invasive disc decompression and spinal stenosis decompression, diagnostic injections, trigger points and comprehensive multimodal pain management. He is trained in the latest techniques in fluoroscopy and ultrasound-guided pain procedures and continues to actively train in the latest technologies in the field including peripheral nerve stimulation.
OCF aims to create the medical and technical breakthroughs that deliver the world-class orthopedic, sports medicine, pain management, and podiatry for which we are known. Each of the orthopedic specialists on our staff is highly trained and well respected within their individual field of expertise and represents an essential step in your orthopedic recovery.
To schedule your appointment, please call 239-482-2663.

Orthopedic Center of Florida
239-482-2663 | www.ocfla.net
12670 Creekside Lane, Fort Myers, FL 33919