Cathleen Yun Ehrlich, ARNP-C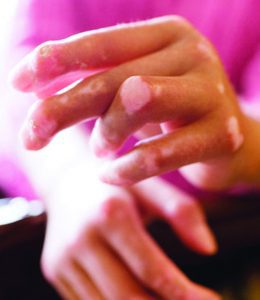 Scleroderma is painful skin, tissue and organ disorder that causes hardening of the cells and membranes. It is categorized as an autoimmune disease and unfortunately, affects nearly 300,000 people in the U.S.
The American Academy of Dermatology describes scleroderma in the following way:
What is scleroderma?
"When a person has scleroderma (sclare-oh-dur-muh), the body makes too much collagen. This excess collagen, the substance that holds our body together, causes hardening and tightening.
Most people have hardening and tightening on their skin. Scleroderma means "hard skin." But this disease can affect more than the skin. Joints, muscles, and even internal organs like the kidneys and lungs can harden and tighten.
Many people who have scleroderma lead normal – or almost normal – lives. Where you have the hardening and tightening varies with the type of scleroderma you have. When scleroderma affects the skin and sometimes the underlying tissue, a person has localized scleroderma."
Unfortunately, there are no known causes or cures for scleroderma. However, there are dermatological treatments that are designed to help alleviate some of the symptoms and slow down the disease by decreasing the activity of the immune system. The standard treatments include topical and oral steroids, vitamin D supplements and ointment, and phototherapy (light/laser therapy).
Phototherapy is one of the most advanced and promising procedures to help alleviate scleroderma's painful side effects. Phototherapy utilizes wavelengths of light, and its impact has anti-inflammatory as well as immunosuppressive reactions. Laser therapy can actually slow down the overproduction of collagen and its compression.
Phototherapy utilizes long-pulsed light to emit a high-energy light wavelength, which creates heat that is highly-controlled. Once the laser begins emitting energy and distributing heat, it can treat various disorders on the face and body, but with scleroderma, offers relief by lessening the tightening effect of the disease. It can also help the skin to return back to its normal pigmentation, as scleroderma often causes large dark spots to occur.
The built-in cooling device allows the skin to stay cool during the treatment. Patients are required to wear protective eye goggles the entire length of the procedure. A topical anesthetic will be applied to your skin to aid in your comfort. Once the handheld laser is applied to your skin's surface, you may feel a series of light snapping sensations. The procedure can take just a few short minutes depending on the area and condition being treated. For the next several days to weeks, you will be required to diligently protect your skin from the sun's harmful rays, as well as follow at home instructions directed by your dermatologist.
Because scleroderma is not one of the most common skin conditions, it is extremely difficult to treat, but the experts at Dermatology Solutions are proficient in treating the disorder, and it's side effects.
Dermatology Solutions also Treats and Offers the Following Services:
• Skin Cancer Treatment (Mohs)
• Hyperpigmentation
• Acne
• Rosacea
• Eczema
• Skin Rashes
• Vitiligo
• Aging skin
• Injectables (Botox, Restalyne, etc.)
• Laser therapy
• Skin Resurfacing
• Face and Body Treatments
• And much more
239-471-2818
www.dermatologysolutionscape.com
2002 Del Prado Blvd South, Suite 205
Cape Coral, FL 33990
About Cathleen Yun Ehrlich, ARNP-C: Cathleen Yun Ehrlich, ARNP, is a nurse practitioner with years of experience and training in dermatology.  She obtained her Masters of Nursing degree from Florida International University of Miami and went on to Dermatology Fellowship training from University of Miami Dermatology Fellowship Program.  She has practiced in New York, NY then moved to Florida in 2016 where she practiced both general and surgical dermatology in Coral Gables, Florida.
Now, establishing her roots here in Cape Coral, we are proud to introduce Cathleen as she begins her career with Dermatology Solutions establishing our first Cape Coral clinic on Del Prado Blvd.  Competent and an expert at diagnosing and treating all forms of skin pathology, Cathleen, along side Medical Director, Debra Fett Desmond, MD work together to bring Cape Coral residents the same quality of skin care our patients have come to appreciate and expect.   Cathleen is a member of the Nurse Practioners, National Academy of Dermatology and speaks fluent Chinese.