By Greg Pascucci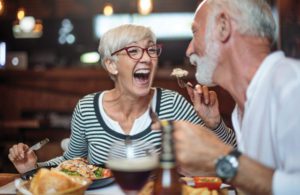 June is National Fresh Fruit and Vegetable Month, dedicated to encouraging healthy eating habits.
At The Carlisle Naples, a luxury senior living community, residents can savor the flavors of fresh, healthy food choices year-round. Under the leadership of Executive Chef Marlon Perez, The Carlisle provides meals that are not only delicious but nutritious. The community's recently launched Fresh Zest initiative also encourages a plant-based, whole-foods diet that has been shown to offer a wealth of health benefits and may even reverse some chronic ailments, particularly in older adults.
"Often, people incorrectly believe that a plant-based diet is intimidating or restrictive," explained Chef Perez. "That's simply not true. It's about making healthier choices like replacing white rice with brown rice or quinoa; opting for whole-grain bread instead of white bread; or choosing water instead of sugary drinks."
Research has found numerous chronic diseases such as diabetes and heart disease can be prevented, or at the very least delayed, by increasing plant-based options and fresh fruits and vegetables, while lowering animal protein in one's diet.
The health benefits of a plant-based lifestyle cannot be underestimated. A Brazilian study concluded people with a diet rich in plant-based protein were 60 percent less likely to develop a buildup of plaque in their heart's arteries than their peers. A study in the Netherlands found those who ate a high ration of plant-derived protein (as opposed to animal-derived protein) had a lower risk for developing coronary heart disease later in life.
"You don't have to be a vegetarian or vegan to reap the health benefits of a plant-based diet," advised Chef Perez. "At The Carlisle, the focus of Fresh Zest is to make healthier options available and offer an opportunity to eat more of the right plants while lessening the intake of unhealthy foods and animal products."
Chef Perez recommends thinking outside the salad bowl – beyond lettuce, carrots and tomatoes. The active retirement community's signature Fresh Zest entrees include Artichoke with Cremini Mushroom Eggplant Cannelloni, Crispy Bean Chimichanga, Potato and Spinach Gnocchi, Pad Thai Spaghetti Squash and a Caprese Stuffed Avocado.
The chef, who has been part of The Carlisle team for over a decade, also suggests people consider putting a healthier twist on comfort foods which are often laden with high calories and saturated fats.
Craving a hamburger? Try a Tuscan White Bean Burger or Portobello Mushroom Burger. In the mood for pasta? Consider a Sweet Potato Lasagna.
"You truly aren't compromising taste with a plant-based diet," said Chef Perez. "Though leafy vegetables are an important part of Fresh Zest, they are not a sustainable calorie or energy source. Our Fresh Zest menu features whole-foods like sweet potatoes, a wide array of vegetables; whole grains like brown rice, millet, quinoa and buckwheat; and legumes like chickpeas, black beans, kidney beans and lima beans. Residents are also encouraged to eat as many fruits as they'd like. Plus, the summer months offer a wealth of fresh, seasonal varieties."
Chef Perez boasts an impressive resume, having worked at Trump's private Palm Beach club, Mar-a-Lago, for five years. Residents, even those initially hesitant to embrace a plant-based diet, have been wowed by the Fresh Zest menu. It's also been a hit with Carlisle staff, encouraging healthier food options.
For those wanting to adopt a healthier lifestyle through a plant-based diet, Chef Perez believes it's best to incorporate vegetarian options into daily meals gradually.
"Research shows that even a moderate change in your diet, such as lowering your animal food intake by one to two servings per day and replacing it with legumes or nuts as your protein source, can have a lasting positive impact on your health," he said. "Be adventurous and sample a variety of foods before throwing in the towel."
Located at 6945 Carlisle Court in Naples, The Carlisle offers spacious one-and two-bedroom residences, weekly housekeeping and flat linen services, basic cable TV, all utilities except telephone, and a complimentary full breakfast plus choice of lunch or dinner in the community's gourmet-style restaurant. For more information about the community, please call 239-221-0017 or visit www.TheCarlisleNaples.com.
The Carlisle, a luxury, resort-style senior living community in North Naples, offers both Independent and Assisted Living lifestyles. Available on a monthly fee basis, the ECC-licensed and CARF-accredited community boasts a full range of services and amenities including 12-hour restaurant dining, housekeeping, transportation and activities. Located on Airport-Pulling Road, between Pine Ridge and Immokalee Roads, the award-winning community's lush tropical environment is highlighted with meandering walking paths around three lakes and tranquility gardens. For more information or to schedule a tour, please call Director of Marketing Greg Pascucci at 239-221-0017.
Luxury Rental Retirement Living
6945 Carlisle Court, Naples, FL 34109
239-221-0017 . www.srgseniorliving.com