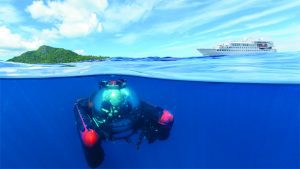 Bigger isn't always better. With the ability to sail to exotic loc ations that a larger vessel would be unable to embark upon, Crystal Yacht Expedition is designed for travelers seeking unique experiences.
December of 2015, the Crystal Esprit yacht was launched. With its fresh, modern accommodations fit for royalty, the yacht exudes comfort, style, upscale spaces, and incredibly personalized service. Holding just 62 passengers to its 91-member crew, Crystal Esprit offers you custom-tailored attention, interwoven with topnotch amenities.
Debby Denham, Travel Specialist with Preferred Travel of Naples recently returned from a seven-day Caribbean voyage on the Esprit. We asked her to tell us more about the yacht and her personal experience.
"There are four decks open to the public, two are for passenger suites, one is for the lounge and restaurants, and the other is the upper deck equipped with a glistening pool, lounge, grill, and bar. The upper deck was unusually practical because unlike bigger ships, three-quarters of the deck had a covering. The shade allowed passengers to enjoy the lavish amenities any time of the day, and a generous amount of comfortable Balinese furniture was a welcomed surprise since many passengers enjoyed taking in the open air from morning to night."
What Sets this Smaller Yacht Apart
From Larger Vessels?
Debby explained, " Crystal is known for its exemplary luxury, and while I've traveled on their cruises ships many times, this experience was unique in multiple ways. Along with being able to experience unique destinations, the yacht offers each suite passenger cabin its own personal butler, and each crew member is hand selected from their outstanding years of experience on larger Crystal cruises; for instance, our butler was one of our servers from years ago on an ocean cruise that we took.
The 6-star dining is not uncommon on Crystal, but on the Esprit, the food was the best I've ever experienced. All of the foodies on the trip were raving about the award-winning chef's masterpieces. Everything was fresh and delicious. They accommodate classic palates to vegan, and the exotic, along with special needs menus like salt-free or gluten-free options. The service is beyond personalized; for example, my husband wanted a specific item not even offered on the menu, and they effortlessly prepared it for him at his request.
The suites are very spacious, boasting over 223 to 515 square feet. Our bathroom had a walk-in rain-shower with double sinks, and the interiors are impeccably designed and decorated."
Amenities
A pianist plays in an enclosed lounge before and after dinner every evening. They have an onboard masseuse, a gym, fitness instructors and a physician. Because of the size of the yacht, they provide water sports that are typically unavailable on larger ships. Their activities included stand up paddleboards, kayaks, jet skis, snorkeling, scuba, zodiac transports, and a 2-person submersible operated by an underwater pilot.
The submersible was a very distinct water experience, as you navigate down to a depth of 100 feet to view the underwater wildlife. The yacht has a drop down marina on the first deck, and the back of the ship opens and closes to offload the water sports. Because the piers are tiny on these islands, the zodiacs take ten passengers at a time to shore.
Each Island tour offered wide-ranging activity level excursions from resort lounging, private lunches and shuttled Island tours, to scuba diving, to golf and hiking, All levels of physical abilities are carefully respected and properly planned out.
The Islands
The few remaining islands that were damaged from the hurricane season are all in the process of recovering from the 2017 hurricanes. Tourism is continuing as usual, and the tourists are very well accommodated. The Crystal Esprit embarks in Marigot on the island of St Maarten, and a few hours' later anchors in the harbors off of Moskito Island BVI.
From Sir Richard Branson's Moskito Island, Debby told us that they could see his private oasis (Necker Island). Moskito Island is fully operational, and many passengers enjoyed using the resort-like amenities along with yoga on the beach, fantastic snorkeling, and a barbeque on the water's edge.
The yacht sailed to the next destination, Saba Dutch, West Indies to explore the mountainous sights and sounds of exotic plants, lush green mountains, pristine scuba, tropical birds, and relaxation."
From there, they arrived in Gustava, St Barts to experience the charming French inspired town. Debby describes the Island, "If you're looking for a European tour close to home, St Barts evokes the French lifestyle from restaurants to shops. While we were there, we hopped aboard a catamaran and sailed around half of the island to enjoy swimming and relaxing in the deep blue waters. Another favorite excursion on St Barts was an ATV adventure and a horseback-riding exploit in the lush green hills of the island."
Falmouth Harbor, Antigua was the next stop. There, Debby arrived onshore via zodiac and explored Nelson's Dockyard, which is a world heritage site. From the point of land there, they had panoramic views of the island.
In St Kitts, they made two stops, one in Basseterre and the other in White House Bay. There were excursions to Brimstone Hills Fortress, as well as scuba diving, ATV and zip lining adventures. Debby also visited an art area and got to see native batiking (waxing material) first hand. This day was full of water sports like paddle boarding, kayaking and of course, relaxing on the beach. Many frigate birds and tropical birds were soaring about enjoying the breeze and sunshine as well.
At Pinney's Beach, Nevis, the Island tour offered a fascinating history lesson. Alexander Hamilton was born there, and the museum and house he grew up in are on the current tour. There were many lovely botanical gardens on the island and adventurous water sports for the thrill seekers.
The Four Seasons Resort hosted the cruise line and allowed Crystal to rent out one end of the beach for the privacy of their Esprit guests. The beach had shaded tents, food and drinks, and exquisite accommodations for the day.
The final day, it was back to Marigot to disembark and mingle with the engaging people of the island, and to experience their beautiful restaurants and shops.
Who is Crystal Yachts Expedition Cruises for?
The yachting experience is for anyone seeking a unique, yet luxurious cultural experience. If you desire unparalleled service, smaller islands and ports, fewer crowds and exclusive adventure, then Crystal Yachts Expedition Cruises should be on your bucket list.
Crystal also provides destinations to European and Greek Islands, as well. If you love to explore and travel to far off places that few have experienced, and if you prefer to disembark with 60 people versus hundreds, then Crystal's yachting experience is for you. There are no elevators on the Esprit, so you must be reasonably mobile to travel in this capacity. To find out more about this exciting journey or other unique options to meet your travel desires, Preferred Travel of Naples is the go-to expert.
If you would like to learn more about your opportunity to visit the Caribbean or anywhere in the world, Preferred Travel of Naples is the best place to start. With the highly traveled and experienced staff to guide you, rest assured that you will be in the best hands.
To find out more about Crystal Yacht Expedition Cruises West Indies' voyage, or other fascinating destinations, please contact Preferred Travel of Naples at 239-261-1177 or visit preferrednaples.com.