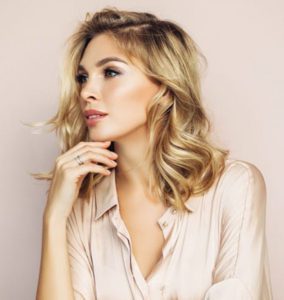 Antiaging begins with the body, mind, and spirit connection via internal and external care. Along with exercise, we all know that drinking plenty of water, and eating a healthy diet full of vegetables, fruit, and lean protein is an ideal way to maintain a youthful appearance and fuel our bodies with the nutrients it needs. But what happens when those healthy habits are not enough? We all want to age well, but sometimes we need a little extra help.
Are you starting to notice sagging skin, discoloration, more wrinkles, and larger pore sizes? An advanced facial device known as Tribella offers three modalities in one machine to restore your youthful appearance on a cellular level.
Tribella is a three-in-one nonsurgical facial therapy that combines photofacial, lifting and tightening, and skin resurfacing treatments to turn back the clock on your skin's elasticity, tone, and texture. This revolutionary treatment is specifically designed for patients who have more than one cosmetic concern, but don't want to undergo invasive surgical procedures to get the results they want.
Photofacial: An Intense Pulse Light (IPL) applicator uses intense pulsed light to reduce the dark pigment of age spots, sun damage, blood vessels, acne scars, and even acne. This treatment improves the overall appearance of your skin by evening out your skin tone, leaving you with a flawless, glowing complexion.
Lifting & Sculpting: The DiamondPolar applicator is designed to lift and tone your skin, creating a more youthful appearance. This innovative applicator uses a combination of energy to produce heat beneath your skin, increasing the production of collagen and stimulating blood flow to make your skin glow. Not only will this treatment smooth fine lines and wrinkles, but it also tightens and firms your skin.
Skin Resurfacing: For the skin resurfacing portion of your treatment, Re3 Healing's Dr. Wang uses a NanoFractional IF™ applicator. This unique applicator delivers energy beneath the top layer of your skin, using minute electrode pins. These small pins create tiny openings in your skin, which stimulate its natural healing response. As these minute wounds heal, your skin will start to regenerate, boosting collagen and elastin production, while reducing the appearance of scars, pigmentation, rosacea, large pores, and uneven skin texture.
Body Sculpting
Body sculpting procedures are becoming even more popular these days due to the innovative technologies that are coming to the market that offer optimal results. Some older devices have produced unwanted outcomes like lumping, shelving and less than stellar consequences, but thankfully, technology has evolved, and there is one body sculpting procedure that Re3 Healing has brought into their practice due to its remarkable advanced ability to tighten, tone, and eliminate fat cells. It's called UltraShape Power.
UltraShape Power is a noninvasive body-sculpting technique that destroys fat cells permanently. It is a painless, FDA-approved treatment used to get rid of pockets of stubborn fat around your body, including in your abdomen, thighs, or hips. UltraShape Power helps you achieve a more toned appearance without surgery or spending hours at the gym.
How does UltraShape power work?
Your body always has the same number of fat cells. When you lose weight, the fat cells shrink, but they don't go away completely. UltraShape Power uses pulsed ultrasound technology to rupture fat cells while leaving skin, blood, and other cells unharmed. Once the fat cells are ruptured, they are cleared out of your body by your liver. The fat cells will not regrow, leaving you with fewer fat cells and a more toned appearance. Studies show up to a 32 percent reduction in abdominal fat layer thickness after an UltraShape treatment.
During your treatment, RE3 Healing's expert aestheticians will rub a special gel across treatment areas. They will then run the UltraShape Power wand over areas of stubborn fat. You will feel vibrations from the wand, but no pain. The entire treatment takes just 30 minutes to an hour.
Who are the best candidates for body sculpting?
The typical patient is usually those that have undergone a strict diet and exercise plan but still have stubborn areas that are unaffected by exercise and eating nutrient-dense foods. For example, a patient may have stubborn love handles, upper arm fat, larger thighs or a bulge of some sort here or there, that really bother them, with UltraShape Power, they can alleviate these problem areas for men and women.
Re3 Healing Aesthetics and Wellness
Re3 Healing Aesthetics and Wellness in Sarasota, Florida offers rejuvenating treatments to improve wellness both inside and out. Led by Dr. Bonnie Wang, their holistic practices help nourish the mind, body, and soul to improve the quality of life of their patients.
Re3 Healing Aesthetics and Wellness
4012 Sawyer Road , Suite 101-104
Sarasota, FL 34233
Phone: 941-893-2688
RE3Healing.com