Intergenerational Program Benefits Young & Old Alike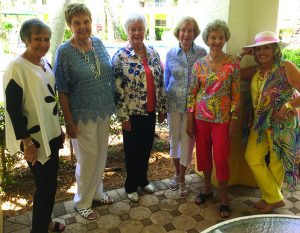 The Week of the Young Child™ is celebrated annually and encourages early learning. This year, the event is observed April 16-20 and is sponsored by the National Association for the Education of Young Children (NAEYC). At The Carlisle Naples, an active retirement community in North Naples, residents and staff know first-
hand the importance of education on the young mind and have formed a long-standing relationship with local school, Sabal Palm Elementary.
As part of its ongoing mission to support the school, The Carlisle will host a "Spring into Styles" Benefit Luncheon & Fashion Show on Tuesday, April 17 at noon. The general public is invited to attend the annual fundraiser which raises money for students to participate in an end-of-year trip to the Golisano Children's Museum.
This year, the community has partnered with Casual Connections, a local boutique offering contemporary women's fashion apparel and accessories.
A donation of $25 is suggested and tickets can be purchased in advance from The Carlisle, located at 6945 Carlisle Court (off Airport-Pulling Road). For more information, please call (239) 591-2200.
Six Carlisle residents – turned fashion models – will be showing off the season's hottest trends. There will also be live entertainment by pianist Doug Williams and a sumptuous luncheon, expertly prepared by The Carlisle's culinary team.
In addition to the outing in May, which rewards scholastic achievements, Sabal Palm students visit The Carlisle several times a year to participate in holiday celebrations and intergenerational activities with residents.
Research continues to show that when young and old come together to form fun, meaningful relationships, both generations reap a wealth of emotional and physical benefits including improved self-esteem and overall health.
Though living at a senior living community such as The Carlisle may offer more opportunities to engage with the younger generation as they often visit for recitals, concerts and special events, there are numerous ways older adults in Collier County can participate in intergenerational activities.
Volunteer with the School Board
The Collier County School Board has an entire page on its website dedicated to those interested in volunteering at one of its school. From field trip chaperones to serving as a judge during competitive events, there are openings in which you can make a significant impact on the lives of students.
Reach out to the Local Library
Libraries are always in need of volunteers to read aloud to preschoolers. Older adults who are retired are perfect for this role which typically requires mid-morning hours. You'll have the satisfaction of knowing you're playing a critical role in getting the youngsters prepared for school.
Share Your Time with a Youth Organization
While some seniors may think they have nothing to impart to the younger generation, that's simply not the truth. Organizations such as Big Brothers Big Sisters and the Boys and Girls Club often have a wealth of volunteer positions which include interacting with children and young adults. In addition to imparting your knowledge, you'll also learn so much in the process.
Become a Mentor
With families living even farther apart than ever before, many children and teens don't live within close proximity to a grandparent. The grandparent-
grandchild relationship is critical and thankfully, those who are not biologically related reap the benefits as well. Reach out to a mentoring organization and learn how you can share your years of wisdom with today's youth.
Located at 6945 Carlisle Court in Naples, The Carlisle offers spacious one-and two-bedroom residences, weekly housekeeping and flat linen services, basic cable TV, all utilities except telephone, and a complimentary full breakfast plus choice of lunch or dinner in the community's gourmet-style restaurant. For more information about the community, please call 239-221-0017 or visit www.TheCarlisleNaples.com.
The Carlisle, a luxury, resort-style senior living community in North Naples, offers both Independent and Assisted Living lifestyles. Available on a monthly fee basis, the ECC-licensed and CARF-accredited community boasts a full range of services and amenities including 12-hour restaurant dining, housekeeping, transportation and activities. Located on Airport-Pulling Road, between Pine Ridge and Immokalee Roads, the award-winning community's lush tropical environment is highlighted with meandering walking paths around three lakes and tranquility gardens. For more information or to schedule a tour, please call Director of Marketing Greg Pascucci at 239-221-0017.
Luxury Rental Retirement Living
6945 Carlisle Court, Naples, FL 34109
239-221-0017 . www.srgseniorliving.com