MICHELLE PENNIE, MD, Board Certified Dermatologist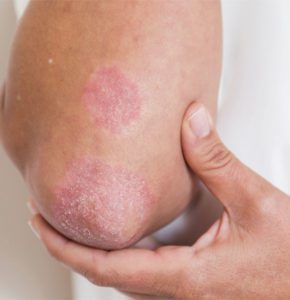 More than 7.5 million people have psoriasis. It ranges from mild to severe and is a lifelong disorder. But what many people don't realize is that psoriasis is an autoimmune disease. The skin cells become overactive and produce more skin than what can naturally be sloughed off, so the end result is red, irritated skin with dry patches that eventually peel off.
Psoriasis has no boundaries, meaning that it can infect the feet to the head and everywhere in between. Depending on the severity of the disease, most people start seeing scaly skin patches on the knees, elbows, and scalp.
An autoimmune disease is a genetic disorder that causes the body to attack its own cells. As with most autoimmune diseases, some of the key triggers that can make symptoms worse are the following:
• Stress
• Infections (bacterial and viral)
• Excessive alcohol intake
• Unhealthy weight (over and under)
• Toxins
• Vitamin D deficiency
• Heat
• Gluten
• Sugar
• Eggs
• Diary
• Nightshades
• Lectins
• Caffeine
Psoriasis is an outbreak that causes a "rash" on the skin, but it can also affect the nails, tendons and joints. Some of the most common symptoms are red rashes or spots, dryness, cracking, flaking, peeling, depression and joint pain.
Psoriasis Treatment
Eating a healthy diet can help control psoriasis flare-ups. For example, following a diet that focuses on vegetables and fruits, healthy fats, lean protein and fatty fish may help to stave off the severity of your disorder. In addition, seeing a dermatologist is imperative to controlling your psoriasis for life.
A dermatologist will evaluate your condition and according to your phase of psoriasis will develop a personalized plan including, light therapy, supplements, corticosteroid creams and medications if necessary.
The effects of psoriasis are both physical and emotional, as individuals are usually in a great deal of discomfort and may also be embarrassed by the way their skin appears.
Michelle Pennie, M.D.
Dr. Pennie is a board certified dermatologist and a fellowship trained Mohs skin cancer surgeon.
Dr. Pennie is one of only a handful of dermatologists on the West Coast of Florida that attended a year long fellowship training program in Mohs Micrographic Surgery, the most effective and precise treatment for most types of skin cancer.
Dr. Pennie completed her medical school and residency training in Dermatology at Emory
University in Atlanta, Georgia. She then completed her fellowship training with Dr. George Hruza, at the Laser & Dermatologic Surgery Center in Chesterfield, Missouri. Prior to that, Dr. Pennie attended Dartmouth College.
Paradise Dermatology is a comprehensive dermatology practice offering the most advanced medical dermatology (including Mohs surgery) as well as cosmetic dermatology.
With two offices to serve you, Paradise
Dermatology offers comprehensive dermatologic care including full body skin checks, medical
dermatology care, Mohs skin cancer surgery and cosmetic treatments.
If you or someone you know is dealing with the challenges of psoriasis or other skin concerns, please call Paradise Dermatology today.
Paradise Dermatology
www.paradisederm.com
Sarasota
Sarasota Office
3355 Clark Road
Suite #101
Sarasota, Florida 34231
941-921-4131
Englewood
699 S. Indiana Ave
Englewood, FL 34223
941-474-8811