By Dr. Eric Coronato, Board-Certified Urologist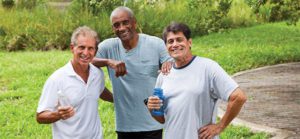 As a Physician who diagnoses, manages and treats patients with prostate cancer, there is nothing more frustrating to me when a patient comes into my office and says, "…but Doc, prostate cancer never kills anyone…" It is this unfortunate and rather cavalier notion — that prostate cancer is such a slow-growing, indolent cancer that Men will die from competing causes before it ever becomes an issue – which may cause patients to often avoid prostate cancer screening and even treatments which may be life-saving. Some of this stems from a media which often generalizes the topic to such a point that we can lose focus on the importance of diagnosing prostate cancer early when men are healthy and when it is often likely to harm them and adversely affect their lifespan.
The American Cancer Society (ACS) estimates that roughly 165,000 new cases of prostate cancer will be diagnosed this year alone. Unfortunately, nearly 29,000 men will also succumb to the disease. Prostate cancer is second only to lung cancer as the leading cause of cancer death in American men. Does this statistic sound like an "indolent, non-
significant" cancer? Hardly so, but unfortunately, this misconception continues despite our efforts as urologists to convey to patients and primary care physicians that despite recent advances in treatment and diagnosis, that prostate cancer is still a leading cause of death in American males. While it does affect more men in the later stages of life, there are still cases of men in their 40s and 50s who are diagnosed with the disease, which even at this stage can be fatal if not diagnosed in its early stage when it may be curable.
Over the past few years, there has also been a near sea-change in not only how Prostate cancer is diagnosed but also how it is being managed and treated. This stems from numerous advancements in technology which allows for more accurate screening of a key patient population—men in their 50s to early 70s. For example, over the course of the past few years, urologists have added the use of MRI which has become a very crucial tool in our strive to more accurately diagnose prostate cancer.
Following diagnosis, another area of significant change and advancement in the past few years has been the way in which patients are now managed and treated once they are diagnosed with the disease.
In years past, once a patient was diagnosed with prostate cancer nearly all patients were offered and received some form of treatment. This mostly "shotgun" approach to prostate cancer treatment – if it's there you must go after it – has now become a thing of the past. Urologists and oncologists are now focused on offering treatment to patients who have more aggressive forms of the disease. In the past, "Watchful Waiting" was a common term used to manage patients who were often felt to be too sick from other medical problems or too frail or elderly to undergo treatment. This typically involved foregoing any treatment other than monitoring for progression and treating symptoms, which could worsen from the disease.
Because we know so much more about how certain prostate cancers behave, much of the shift in treatment now focuses on not only treating patients who are healthy enough to undergo treatment but only offering treatment to those who have a form of the disease that is considered more aggressive. This treatment pathway is now called "Active Surveillance" and is widely recognized as the preferred method of managing men diagnosed with a low-risk form of the disease. The push for "Active Surveillance" stems from years of research that confirms certain forms of prostate cancer (AKA Gleason 3+3=6) are often not lethal, and thus the treatment may be worse than the disease itself. Active Surveillance may help avoid overtreatment in nearly 60-70% of men diagnosed with low-risk prostate cancer. This, in theory, should then lead to a better quality of life by eliminating the side effects of the more common forms of treatments such as surgery, radiation or hormonal or chemotherapy.
So then the next question is what do we do for men who have more aggressive forms of the disease? If one needs treatment, what treatment is best? While surgery and radiation are still the mainstays of treatment offered these days to a majority of men, there is never a "one-size-fits-all" formula for prostate cancer. Advances in surgery and radiation have also made several changes to how we treat men with prostate cancer. Most surgery for prostate cancer is now performed robotically. The benefits of robotic surgery over open surgery, while still often debated in academic circles, are well recognized and often lead to shorter hospital stays and less blood loss. Radiation treatments are also far more advanced than even a few years ago. Newer technologies often allow for shorter treatment periods and fewer side effects.
But what about a small, but unfortunate portion of the prostate cancer population, that are often diagnosed with an advanced form of the cancer? One of the more recent areas of major advancement in the treatment of prostate cancer has been in the area of treatment of men with metastatic prostate cancer. When a cancer is called "metastatic," this refers to men whose disease was so aggressive that it has spread beyond the prostate gland and most often to the spine, lymph nodes or other organs, such as the liver, lung or even the brain. A few years ago, other than hormonal treatments involving shots or chemotherapy, there were very few treatments and medications available to men with metastatic disease. There are now several new FDA-approved treatments for patients with advanced forms of prostate cancer. These treatments include newer forms of chemotherapy, or immunotherapies, radiation-based therapies, or even oral medications that allow for the prolonged management and stabilization of the metastatic form of the disease. They are often well-tolerated, with far, fewer side effects than some of the therapies that were available in the past.
It is crucial to understand that while prostate cancer may often be a disease one may live with for many years, there are also forms of the cancer that can be lethal. Earlier diagnosis and proper, individualized treatment are the most crucial ways to prevent death from this disease that still kills so many American men each year.
If you're concerned about prostate cancer, you should speak with your primary care physician about referring you to a local urologist who can better manage your disease. To schedule your urology appointment with Gulf Coast Urology (A Division of 21Century Oncology), please call (941) 625-1550.
About
Eric E. Coronato, D.O
Dr. Eric Coronato received his degree from New York College of Osteopathic Medicine, completed his internship in Massachusetts and his Urology residency at Albert Einstein Medical Center in Philadelphia and has been practicing in Florida since 2010.
Dr. Coronato is affiliated with multiple hospitals in the area, including Fawcett Hospital, Englewood Hospital, and Bayfront Health Park (Port Charlotte and Punta Gorda). He is also affiliated with Gulf Point Surgery Center.
Dr. Coronato's areas of special interest are urologic oncology, kidney stone disease, prostate hypertrophy and urinary incontinence. Dr. Coronato sees patients at Port Charlotte and Punta Gorda offices.
Gulf Coast Urology
21260 Olean Boulevard
Suite 202A
Port Charlotte FL 33952
941-625-1550
www.gcurology21c.com