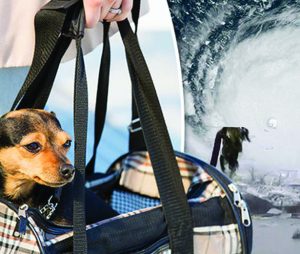 Predicting the path of a storm is obviously not an easy task. Last year, hurricane Irma took our side of the state by surprise at the eleventh hour and left many of us scrambling to prepare our homes, evacuate, or shelter in place. Waiting for the unknown is stressful, but along with the unsettling feelings of hurricanes and tropical storms, we need to make a detailed plan for our pet's safety.
Pet Hurricane Preparedness List:
• Plan it now! Don't wait until storm season, because by then, it may be too late
• Make sure your pet's Id's are in good shape and updated with contact phone numbers
• Get your pet microchipped, or if they already have the chip, keep their paperwork in a waterproof bag
• Stock up on extra pet food and any medications they'll need (2-4 weeks worth)
• Get all of your pet's updated medical and vaccination records and keep them in a watertight pouch that is easily accessible in case you need to evacuate (shelter's and some hotels won't accept pets without these documentations)
• Find out which shelters or hotels take pets now
• Purchase a lifejacket for your pet
• Get a Pet Carrier
• Have water ready to take on your evacuation trip
• Pack extra feeding bowls
• Pack their harness, collars, and leashes
• Be Responsible! NEVER LEAVE YOUR PET BEHIND!
Thousands of pets were displaced, lost and left behind during hurricane Irma. If you are a pet owner, you need to make a plan now for the safety of you and your family, including the furry ones.
Getting started today is easy, make a list, call the veterinarians office, order extra medications, food, etc. and have a bag ready to go for your pet. Having a hurricane preparedness bag for you is just as important. When disaster strikes, you will be less anxious about a few things including your family and pet's safety, and that's critical.
Best Friends Animal Hospital is here to help make your preparations go smoothly, ask them about getting your pet's hurricane bag ready in advance.
Best Friends Animal Hospital believes in providing quality health care for your pet in a warm and welcoming environment. Their doctors routinely attend educational seminars in order to stay abreast of the latest medical treatments and technologies. Their hospital also prides itself on having state-of-the-art equipment including a digital X-ray machine and surgical laser, both of which are used in human medicine. The digital X-ray machine allows them to take high-quality radiographs in seconds and gives their doctors images with better diagnostic quality, while the surgical laser helps to decrease pain and bleeding as well as increase healing speed of the incision.
Best Friends Animal Hospital offers free 24-hour access to your pet's medical record through a pet portal, as well as home delivery of your pet's prescriptions through an online store. Their online pharmacy carries prescription medications, heartworm, flea and tick preventative, pet food, treats, and toys.
The doctors and staff are devoted to helping your pets' live longer, healthier and happier lives because they understand that your pert(s) are important members of your family. Their knowledgeable staff is available to answer any questions you may have, and they look forward to seeing you and your pet(s) soon. Please visit their website to find out more, or call them to book your appointment.
Best Friends Animal Hospital
12220 Towne Lake Dr., Suite 50
Fort Myers, FL 33913
239-673-3412
www.bestfriendsanimalhosp.com