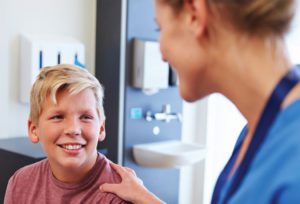 No matter what grade your child will enter this fall, there is always a last minute rush of things to do: purchase supplies and new school clothes, fill out forms and attend orientations. But one of the most important tasks for a successful school year is an appointment with your child's physician.
The American Academy of Pediatrics (AAP) advocates that every child receive care through a "family-centered medical home." This means care is provided by the same physician(s) over a long period of time, particularly during the years from childhood to puberty when vital changes are taking place.
Get your forms in order. Check that you have all the school and sports physical forms for each child, and ensure you obtain copies of all necessary records and physician signatures. Remember to bring special permission forms allowing the school to administer your child medications, if needed.
Medications and Supplements. Bring a current list of your child's supplements, prescription or over-the-counter medications.
Immunizations. If you do not have a consistent medical home for your child, carry copies of his or her vaccination records. Trust your child's physician to advise you on the best course of vaccinations.
Height and Weight. Ask if your child's growth, weight gain and body composition are in normal range for his or her age, and whether any nutrition or exercise adjustments are appropriate.
Allergies and Asthma. Discuss any sinus or breathing problems, determining if any medications should be added or adjusted. Also include any environmental or food allergies.
Sleep Patterns. Discuss any issues your child has with quality of sleep. Depending on age, this may include bed-wetting, morning fatigue, and trouble falling or staying asleep.
Diagnostics. Depending on your child's age and overall health, beyond blood pressure and heart rate, the physician may suggest lab work. If blood is to be drawn, ask the physician to test for iron levels (anemia), vitamin D, cholesterol, blood sugar and A1C levels. NOTE: When setting the appointment, ask the scheduler if your child should FAST before the appointment.
Vision and Dental. If your physician doesn't offer vision screening in the office, ask for a referral for an ophthalmologist. Remember to schedule your child's annual checkup for cavities and gum health, and to confirm your child's adult teeth are growing in properly.
Overall Wellness. The annual physical is a good time to ask questions or discuss anything concerning about your child's development. This includes, but is not limited to, academic progress, social and emotional, body image, depression or lethargy. For teenagers, use this opportunity for an open, three-way discussion about alcohol, drugs and sexual activity.
Back to school can be a busy and stressful time for parents, but allowing the annual physical to fall between the cracks can lead to much bigger trouble down the road. Using this checklist will help you maximize the time in your physician's office, and give you peace of mind that your child enters the new school year with their healthiest and happiest foot forward.
If you need to be connected to a primary care physician, contact Physicians Regional Medical Group at 239-348-4221, or visit www.PhysiciansRegionalMedicalGroup.com